3 cotton yarns explained | Scrubby cotton yarn, partially scrubby cotton yarn and plain cotton yarn
I'm excited to introduce you to test knitter (and fellow blogger) Matt at www.bepreparedatoz.com. Matt and I met through him test knitting some of my patterns. He knit using different cottons yarns, including cotton scrubby yarn. Well, it's been quite the experience and he's agreed to share with us what he learned!
---
As knitters, we are always looking for the "best" yarn. The problem is that we have to buy every yarn and test it to see it works for the project. (OK, for some of us that just means more dishcloths or blocks to make into afghans/blankets for donation). However, with inflation on a roll and limited budgets, buying all those different yarns to test out is getting expensive. In an effort to help everyone save a little cash, today we'll look at three cotton yarns intended for dishcloths.
The First Yarn – "Scrub-ology"
A scrubby cotton yarn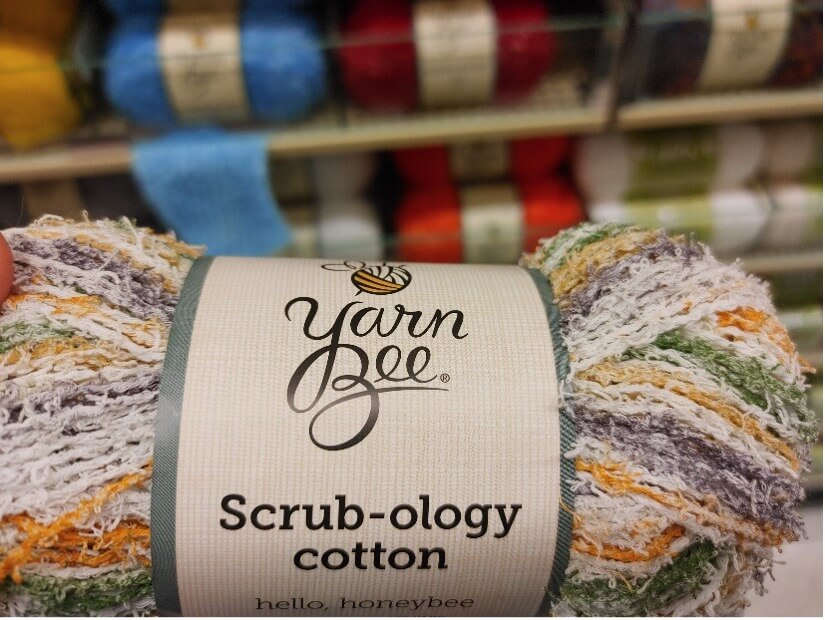 "Scrub-ology" yarn is available at Hobby Lobby. This yarn is difficult to work with for a number of reasons. First, it is difficult to see the individual stitches for all the "fringe." Therefore, any pattern you try follow will be invisible. Second, this yarn does not glide through your fingers like a smooth yarn.
The fringe drags and will affect the tension. "Scrub-ology" also drags on the needles as you knit. This dragging action on the hand and needles will impact the gauge of the piece differently than a smooth yarn.
This yarn only has one to two main strands, while the fringe makes up the rest of the material. The fringe is what creates the scrubby effect. "Scrub-ology" is very difficult to work with particularly for a beginning knitter. Purl stitches are particularly demanding.
Though difficult to work with, this scrubby cotton yarn will make a great dishcloth, (or potholder if the yarn is doubled), using simply knit stitches to create a garter stitch fabric.
The Second Yarn – "Sugar'n Cream"
A partially scrubby cotton yarn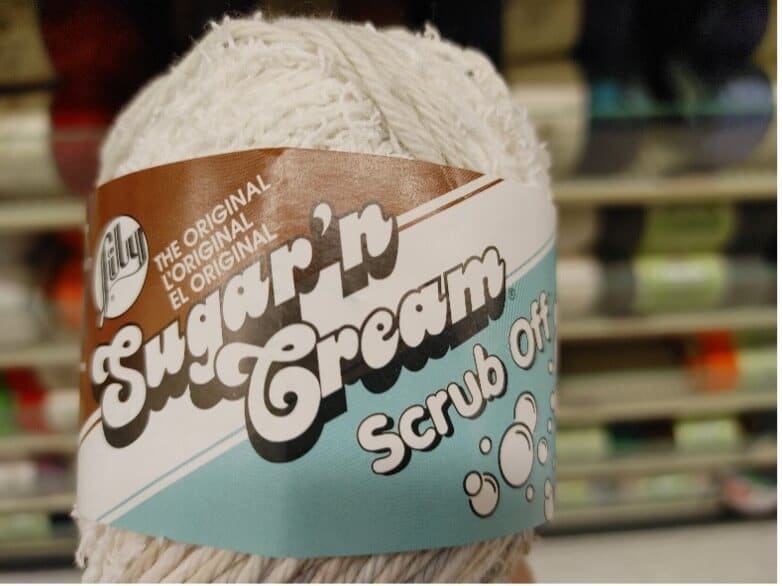 "Sugar'n Cream" yarn is a half smooth/half scrubby material yarn, or a partially scrubby cotton yarn. This yarn is found in several local outlets and is also available at Hobby Lobby. The product this yarn makes works well as a dishcloth.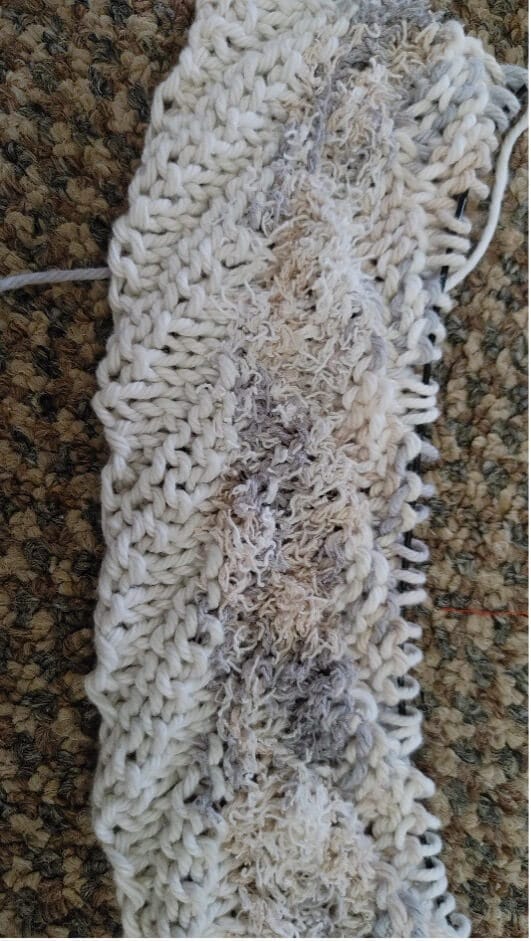 The "Sugar'n Cream" yarn creates a material that is part smooth and part scrubby. The scrubby portion in this yarn is very similar to the "Scrub-ology" yarn in how it is manufactured. However, the Sugar'n Cream yarn is much easier to work with than "Scrub-ology."
The difference is that this yarn glides through the fingers and over the needles more like an untextured yarn. Again, the scrubby texture creates a situation where it is nearly impossible to tell a knit stitch from a purl.
While testing this yarn, somewhere in the scrubby part, a mistake was made which turned the pattern. With all the scrubby fringe material blocking the view, it was impossible to identify what or where the mistake was made. In the picture to the right, the angle of the knit stitch is supposed to continue in the same direction.
The Third Yarn – "I Love This Cotton"
A plain cotton yarn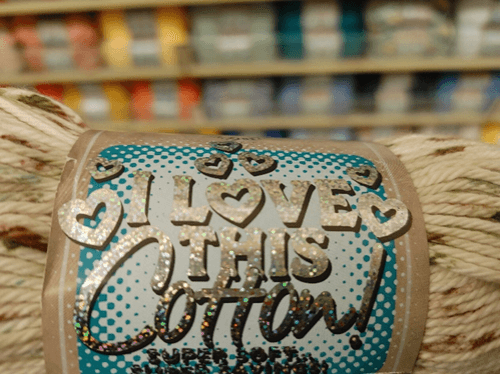 "I Love This Cotton" is a 100% cotton product that has no "scrubby" fringe. It is relatively smooth and glides through the fingers and needles easily.
It is not as smooth as an acrylic yarn. This is handy for the beginning knitter as it is less likely to slip off of the needles. This yarn makes a nice, finished product and can be used for any project that calls for cotton yarn.
Using a slightly larger needle and 2 strands of yarn will produce a beautiful hotpad.
The Needles – Bamboo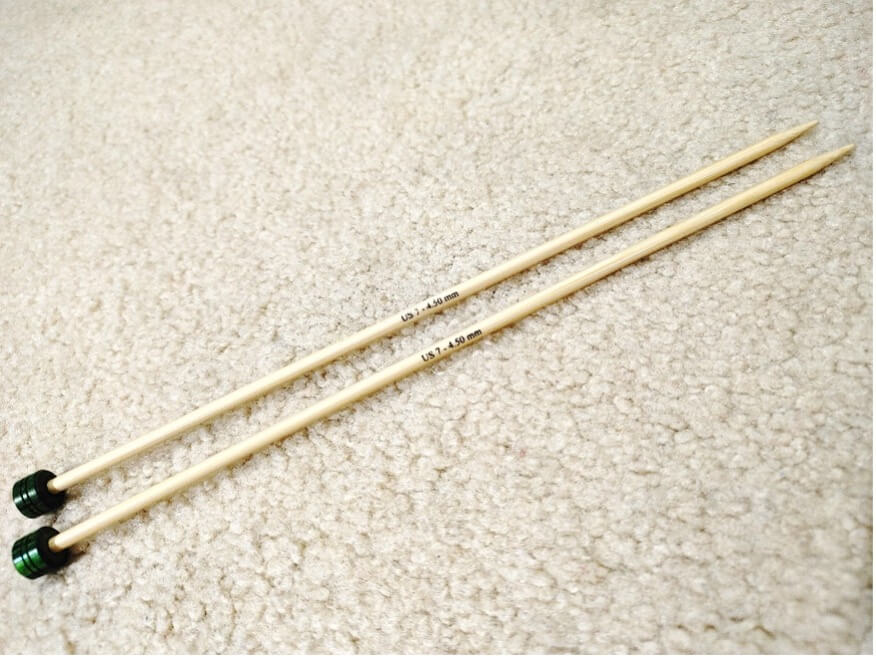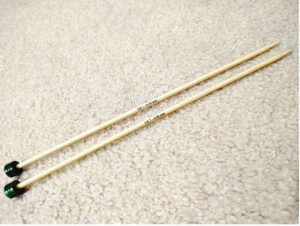 As for needles, each yarn recommends a different size needle on the label yarn chart ranging from US 7-9. In test mode for each of these yarns the size 8 needle created a larger gauge product.
Using bamboo needles and starting with size 8, the gauge on the test dishcloth was WAY off. The width of the material as pictured with yarn the Scrub Off yarn was 11.5 inches instead of the intended 9.25 inches.
Changing to size 7 needles made a huge difference in the gauge measurement. This change brought the gauge to the intended size.
The Tension
Each person knits differently, and part of that difference is tension. Every knitter winds the yarn through their fingers in a different direction with more or less fingers involved.
I personally generally don't wind the yarn around any fingers. The yarn simply sliding through the hand creates enough tension. Ultimately, with these yarns, the needle size had to change, and the tension had to change.
The number of turns between fingers was increased slightly, (one finger). This extra "tension" made a huge difference in the gauge of the material.
The End of the "Yarn"
"Scrub-ology," "The Sugar'n Cream," and "I Love This Cotton" each have their benefits.
"Scrub-ology" will be the workhorse in the kitchen scrubbing those tough pots and pans. The knitter will need an extraordinary amount of patience to create a masterpiece with this scrubby cotton yarn.
Moving across the spectrum, "The Sugar'n Cream" will be less aggressive in the deep cleaning department. However, the degree of patience needed will drop dramatically with this choice in partially scrubby cotton yarn.
Finally, "I Love This Cotton" while the least aggressive in its ability to clean requires virtually no patience. Creating wonderful and quick projects with "I Love This Cotton" is easy and fun. The "I Love This Cotton" yarn is great when you are looking for a mindless knitted dishcloth or hot pad.
A Little About Matt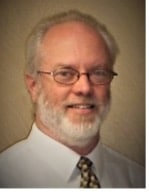 I am a pastor, Emergency Care and Safety Institute Instructor, Doordash driver, and blogger. As a blogger, I believe that everyone should be prepared for all of life's potential ups and downs. The best way to do that is to be knowledgeable in a lot of different skills. While it is not necessary to master all skills, it is helpful to be master of some skills. Preparedness should start with a healthy foundation in faith in God and build from there. You can follow me on my blog at Index – Be Prepared A to Z
A quick note from Lois
A huge thanks to Matt for test knitting these projects for me that are in my Learn to Knit Resource Kit. I especially appreciate his using different yarns and testing out the ease of scrubbiness for any beginner knitters who may want to try their hand at a different type of yarn.
If you have any questions, feel free to reach out to me via email lois@ozzylosiknitdesigns.com or DM on IG @ozzylosiknits
Hugs & Happy Knitting!
Lois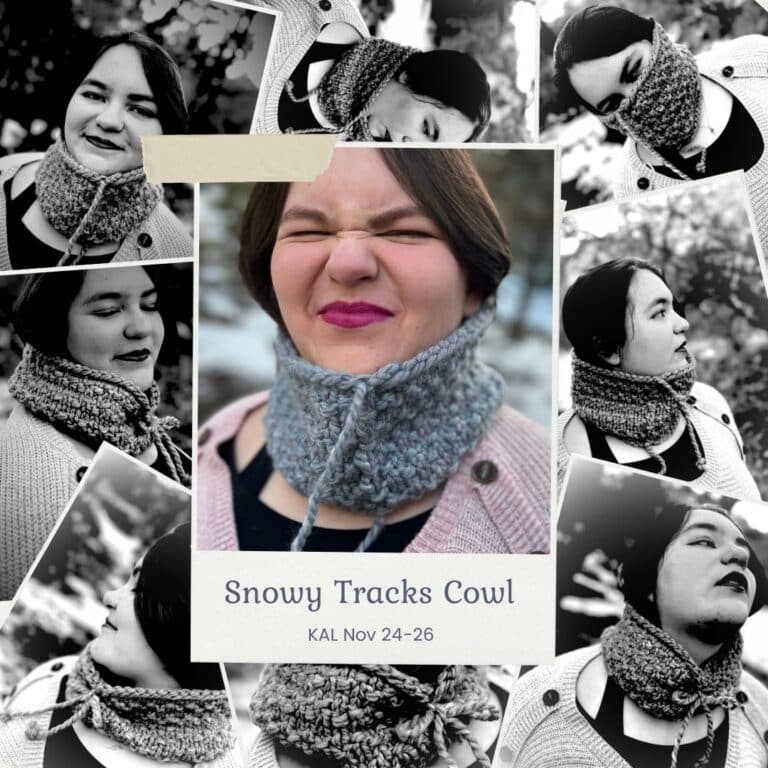 Snowy Tracks Cowl is a bulky weight knit cowl that is guaranteed to keep you warm this winter. Knit in the round from the bottom…