Fingerless Gloves Knit MY Way!
Easy enough for beginners!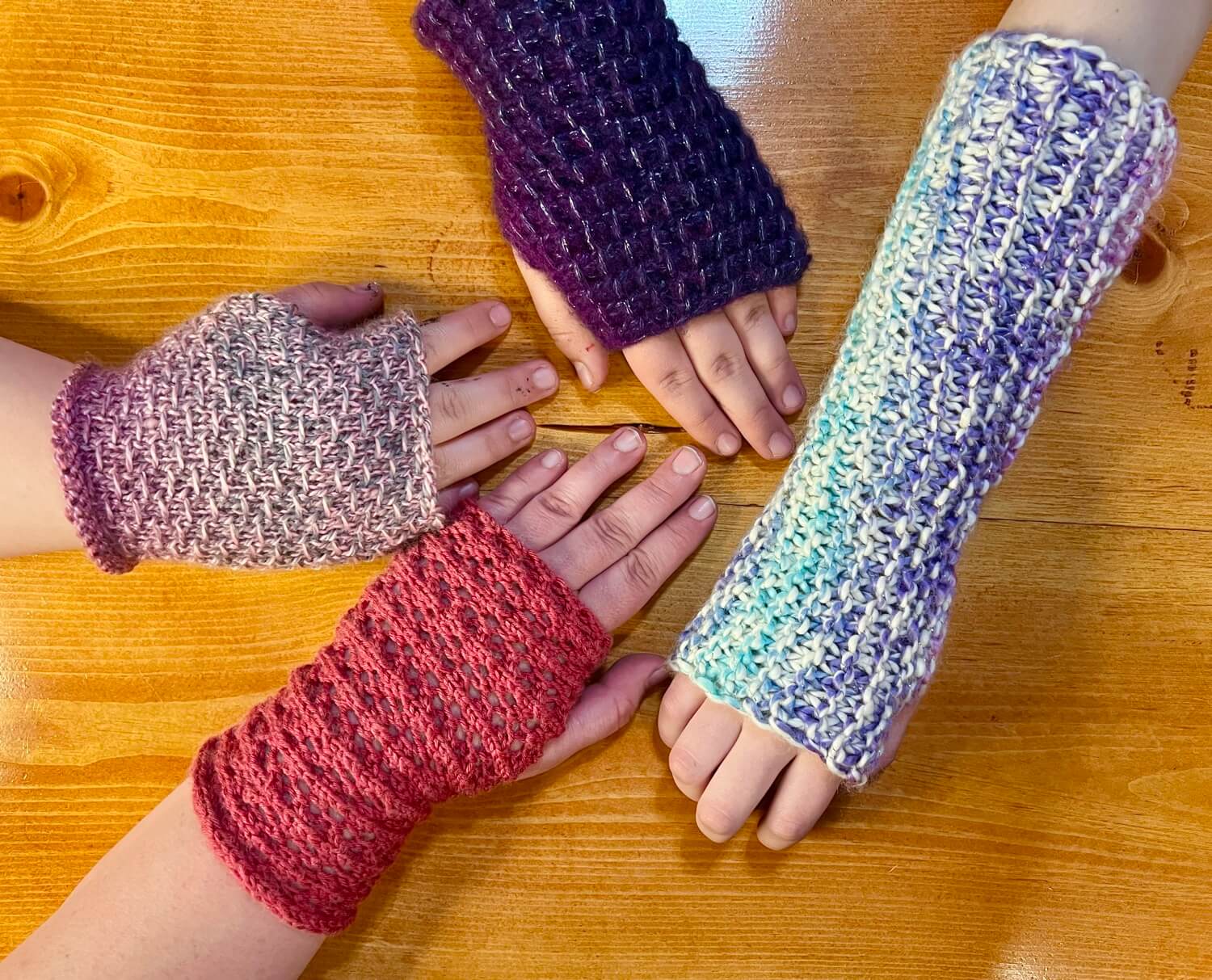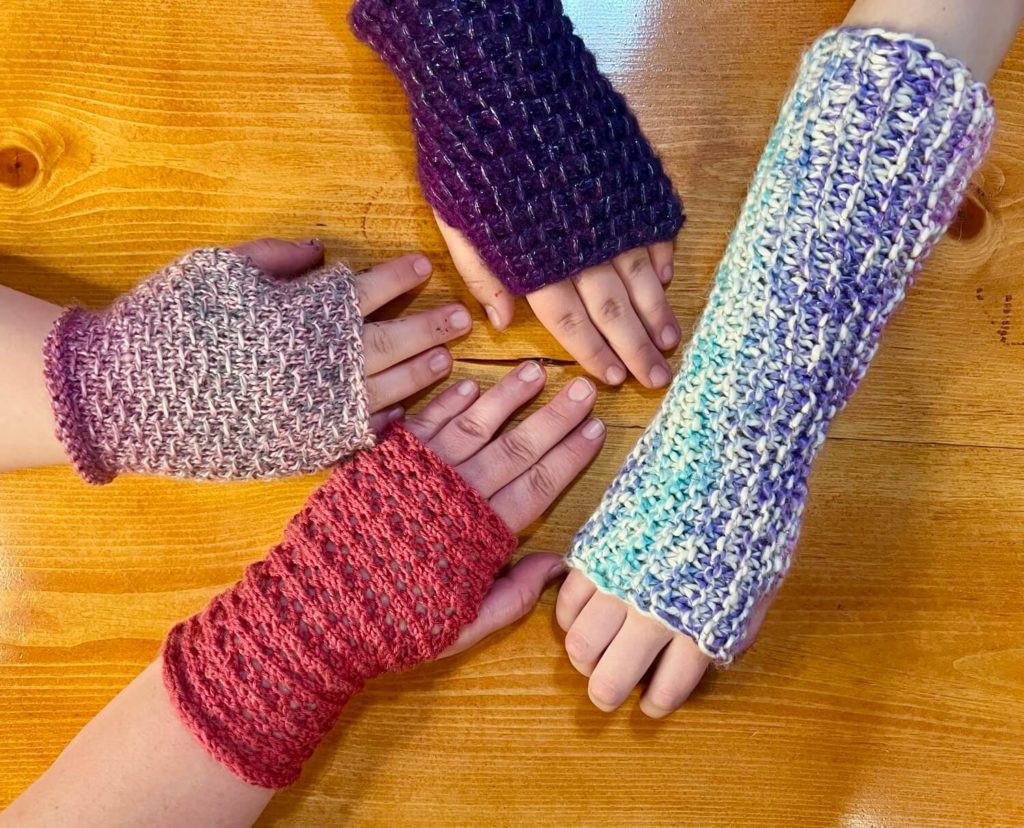 Are you ready to get your creativity on!? Then this is the post for you! Here you will find all the instructions and tools needed to knit fingerless gloves designed by you. You just need to add your own creativity. So, start thinking now about a stitch pattern you love, or want to try, because you're about to make "Fingerless gloves knit MY way"!
I really truly believe knitting rectangles/squares is the best way to master the basic knitting skills. As a result, you can knit everything with a firm foundation. But I'm also acutely aware of the fact that it gets boring. Besides, what everyone wants to knit is something they can wear!
So, what CAN we do?
Then I had a great idea. Let's make a rectangle that we can wear! (And NO not a scarf. I mean sure make one, but they are long knits, especially for beginners.) And I was thinking of something more short and sweet.
But I didn't want to make a pattern because that takes a long time. There's a lot of steps involved. And I wanted to give you something NOW! So, rather than give you a pattern with all the information and details, I'm just gonna tell you what to do. Then you can make it yourself and be as creative as you want to be!
And you know what's really cool about this idea? You get to be in control! I'll give you the basics. Then you can just let your creativity take over and create whatever YOU want it to look like!
First some boring, but important disclaimers
This is NOT a pattern. Therefore, not tech edited, and not test knit (except by me).
All of the math and numbers here are exact approximations. Meaning your finished length measurement may not be exact (unless you are lucky!). Except the cast on stitch number, that is exact!
The stitch pattern you choose to knit with can change the length of these gloves. i.e. rib stitch will make it shrink, "poofy" stitches can make it grow.
Keep in mind, the stitch pattern you choose will appear sideways on your knit item as the seam is from the cast on edge to the bind off edge.
There are no increases or decreases in this tutorial. As such, when deciding how long you want your gloves, you will want to make sure that you choose a length where your arm is not wider than your hand (excluding the thumb).
Because we are not making a gauge swatch, and we are using approximate exactness, it is best that you measure the length and cast on length rather than the width. Because the length can vary with out much impact, but get a glove that's too tight or loose. And you will never wear it.
I will give tips throughout. However, these are TIPS and not necessary for you to be successful. You can do this however you like! That's the fun part.
Are you ready!?!
Materials for fingerless gloves knit MY way
Basically, we will be knitting a rectangle, then sewing it in a way that creates fingerless gloves! Easy peasy lemon squeezy!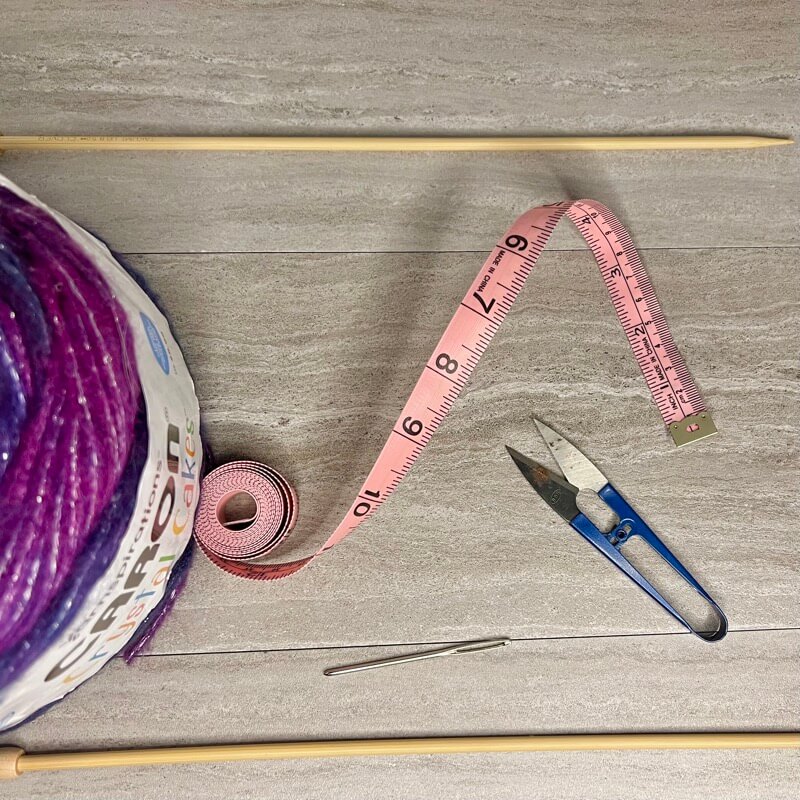 Before we begin, here's what you're going to need:
Yarn (what weight and fiber – up to you!)
Knitting Needles (size should be compatible with the yarn you picked, if you aren't sure just use the size suggested by the yarn label.)
Tapestry Needle
Scissors
Tape Measure
A stitch pattern you want to use
Gather all the numbers
Look at your yarn label. Then write down the number of stitches over 4 inches or 10 cm. (Remember to stick with either inches or cm throughout this tutorial, do not go back and forth.) You do not need the number of rows, only the number of sts.
Measure your arm, as pictured, from the bottom of your fingers to where you want your glove to lay on your arms. Then write this number down. TIP: I recommend that you not go too high up your arms. Think forearms or less.
Pick out a stitch pattern that you want to use. Then write down how many stitches are in the repeat and the number of additional stitches needed (if applicable). TIP: I recommend choosing something that does not repeat for more than 4 rows (depending on yarn weight). Because having too many rows can sometimes add an inch or more. Rule of thumb the finer your yarn weight, the more rows you can go up. And the bulkier yarn weight, the less rows you should have in your repeat. .
TIP: All of my gloves have a selvedge edge added to the additional sts required by the stitch pattern.
My stitch patterns were selected from Vogue Knitting Ultimate Stitch Dictionary. (Not a sponsored post, and not an affiliate.)
Great! Now, take all these numbers and let's hop on over to the google sheet I created! The google sheet will open on the sample page with instructions. So, be sure to click on the correct tab for your units of measurement. But I'll walk you through them over here too, just so it's crystal clear.
Google does the math so YOU don't have to!
I created this sheet so that you don't have to worry about numbers. It is going to do all the math for you. I promise. Just put your numbers in the aqua spaces and watch the math happen.
To use this google sheet, you must save it in your own drive.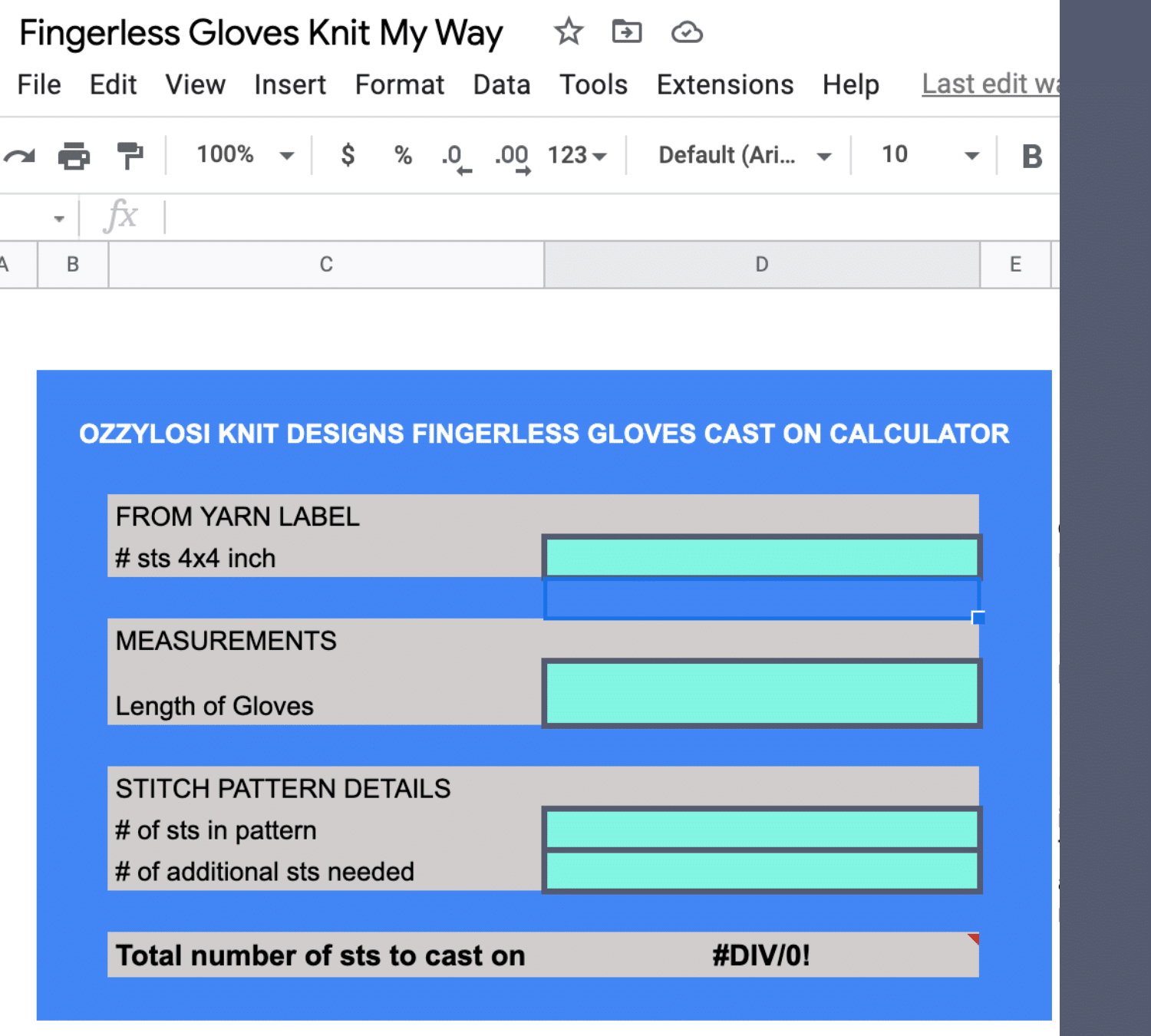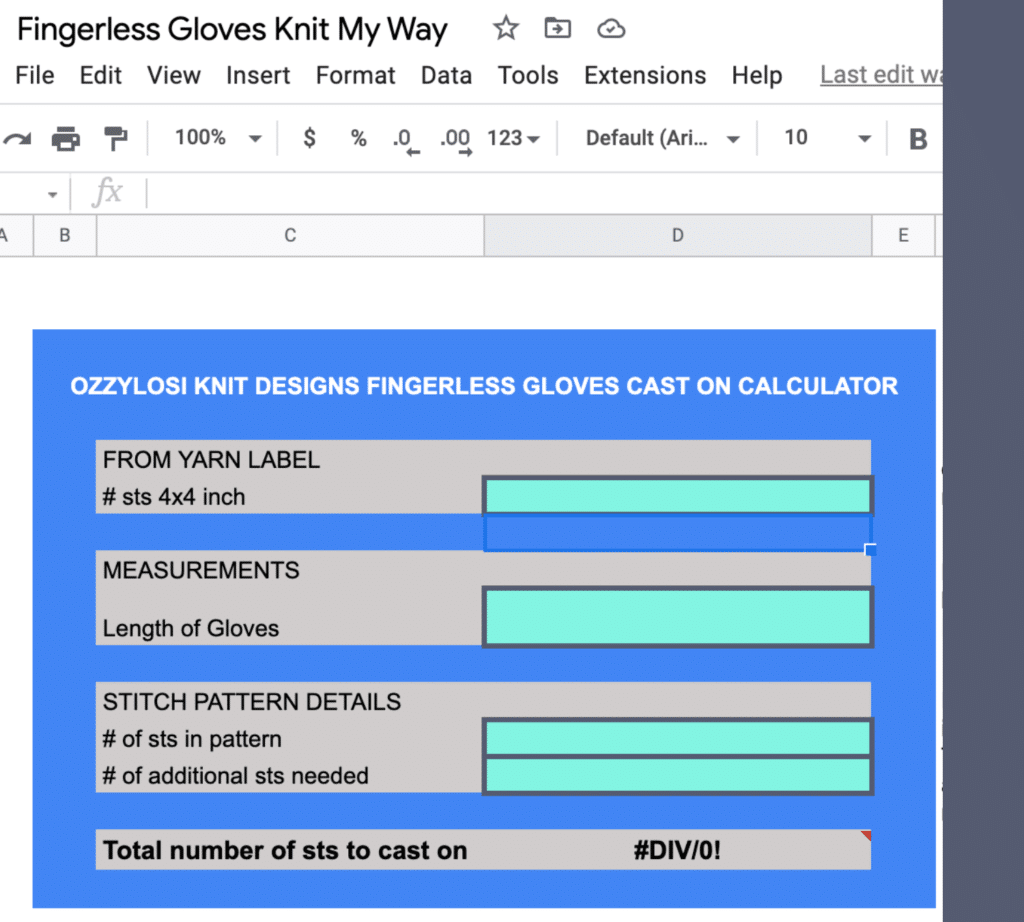 Step 1. Enter the number of stitches per 4 inches or 10 cm on your yarn label. (Do not do the math and put the number of stitches per inch or cm! This formula is already going to calculate that for you!)
Step 2. Enter the length measurement you want for your glove.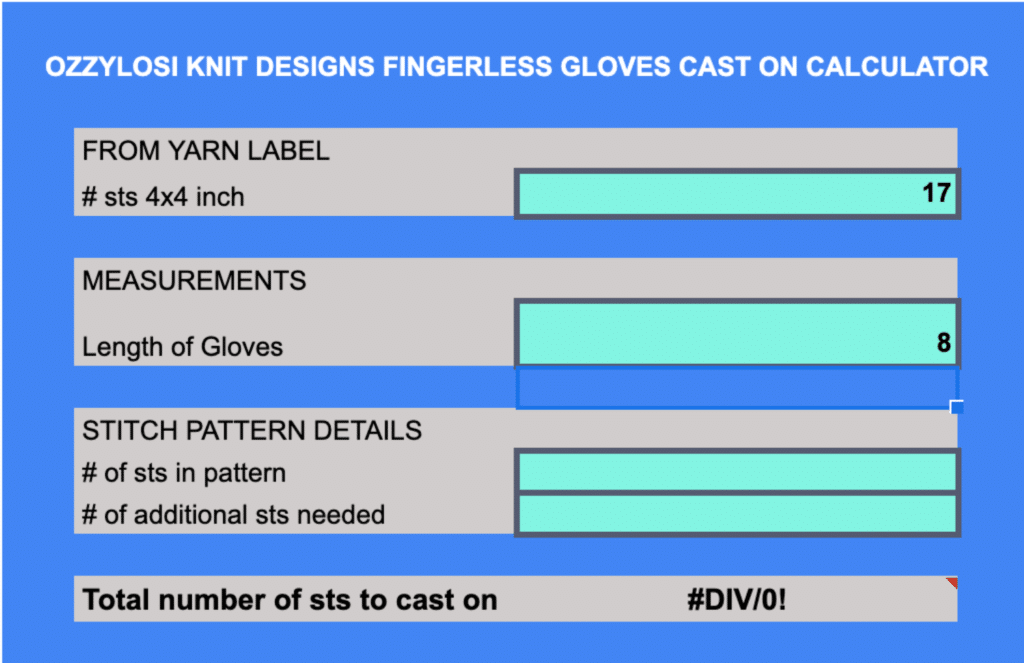 Step 3. Enter the number of sts for your stitch pattern. (If you are using just plain garter or stockinette or another stitch that is a 1 stitch repeat, enter 1)
Step 4. Enter the number of additional sts required by your stitch pattern. (If this number is 0, go ahead and enter it, or leave it blank – either way your formula will work.) Ta-Da! The number of sts you need to cast on should appear.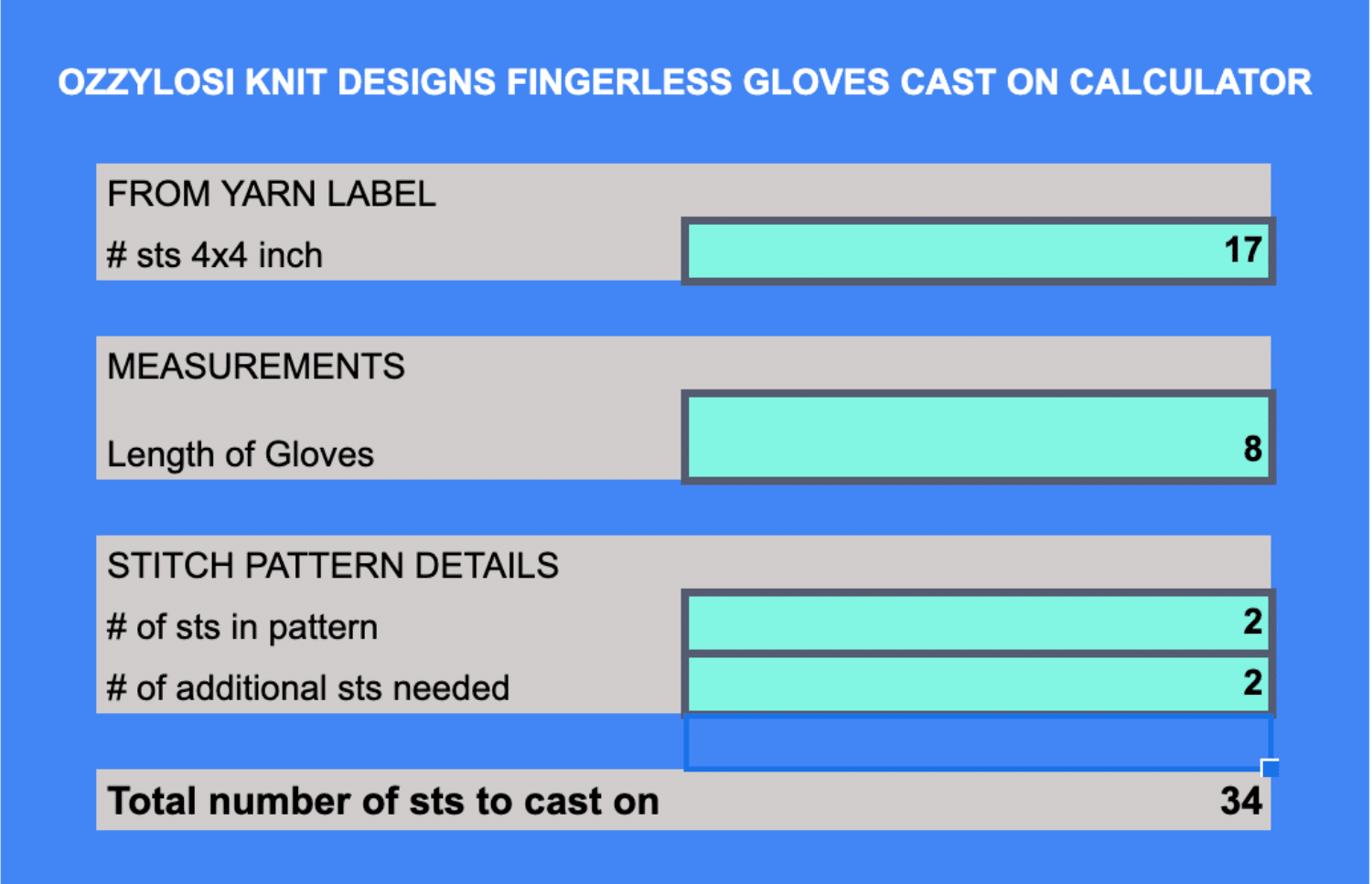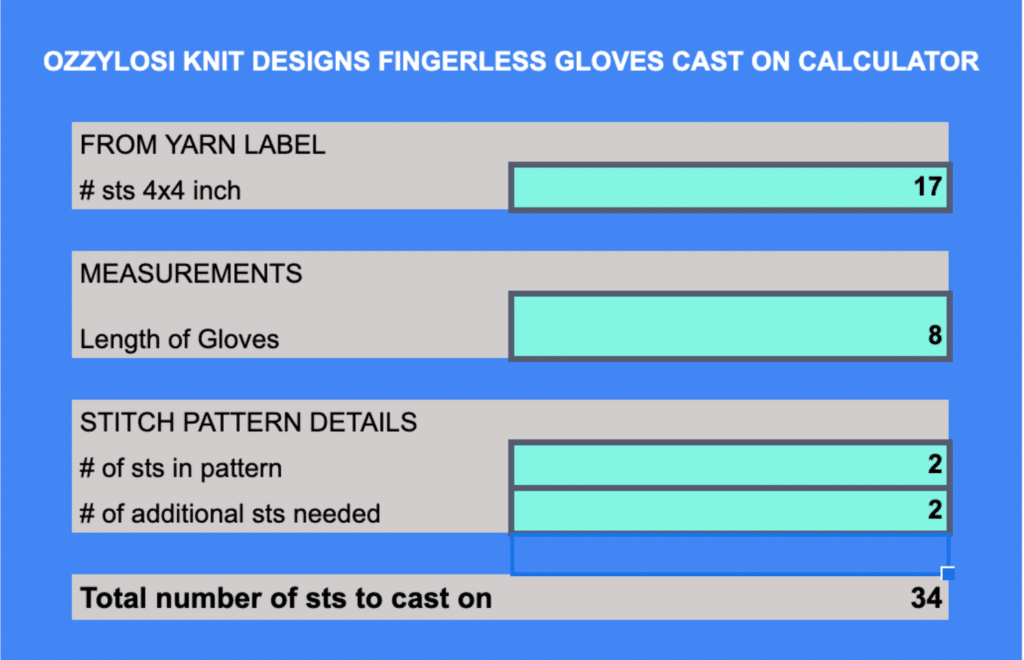 Fingerless gloves knit MY way… Begin Knitting!
Cast on in any method you like! I used long tail cast on. Click here for a tutorial. Then, just knit your stitch pattern back and forth until you can wrap this fabric around your hand and arm. Because we are making fingerless gloves, we will want it to be a bit snug and not too loose. So, if you tug it a bit that's ok! Just don't make it so tight it will cut off circulation.
Once you are ready, bind off.
Wow, that was a really short section. So, here's a picture. Hard to tell, but where my thumb is the fabric is touching comfortably snug…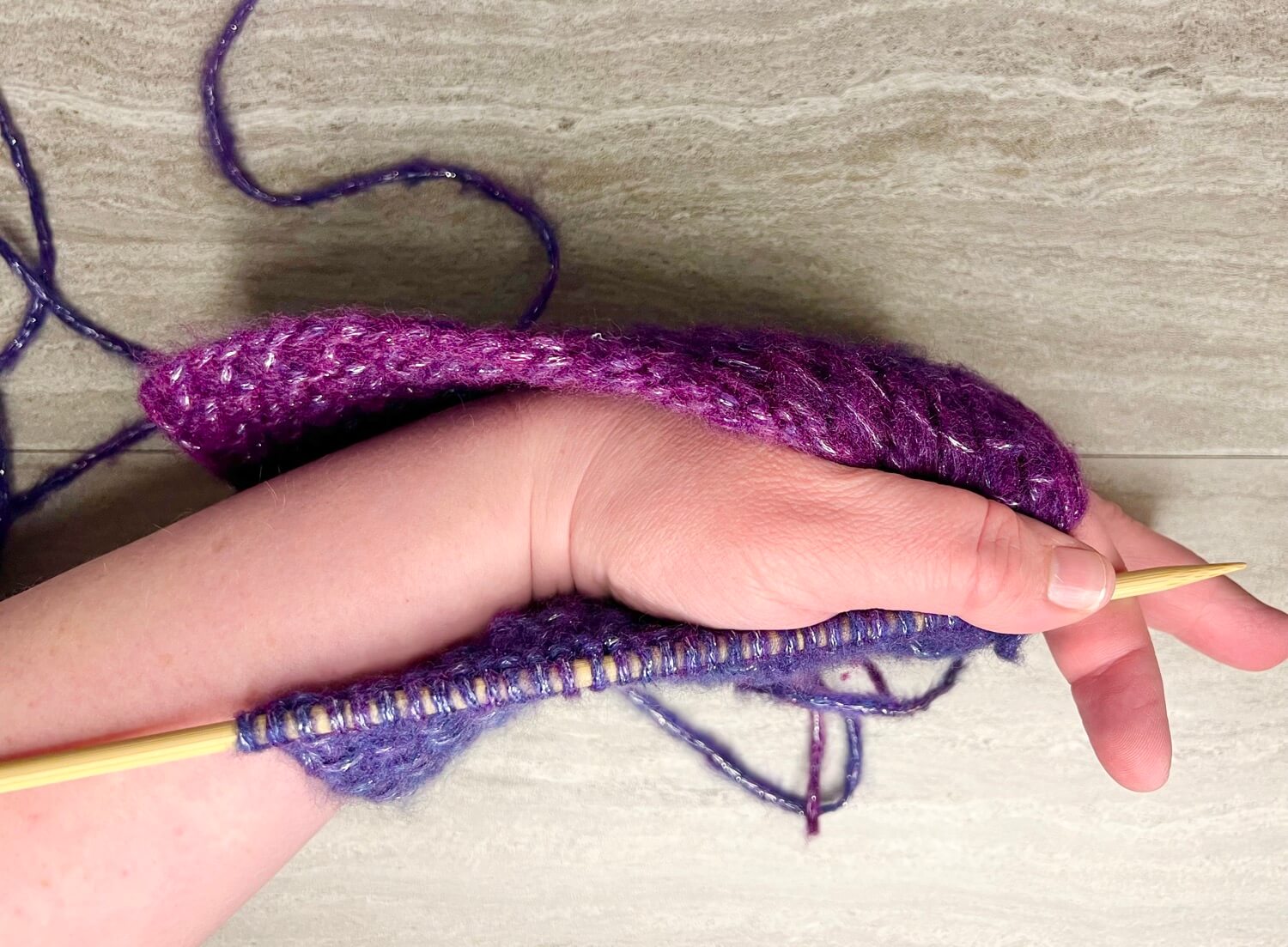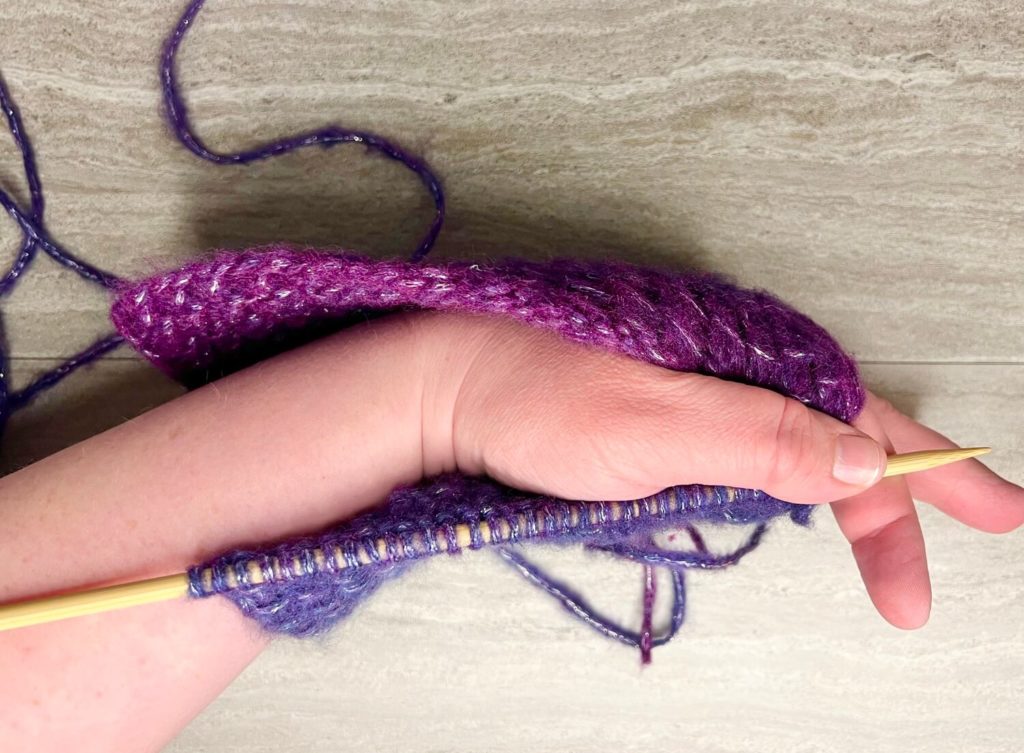 Finishing Touches
All right! We are almost there! Now, all we need to do is line up our fabric bind off edge to our fabric cast on edge and do some mattress stitch magic. But before you jump ahead and sew it together completely – don't forget we'll want to leave a thumb hole!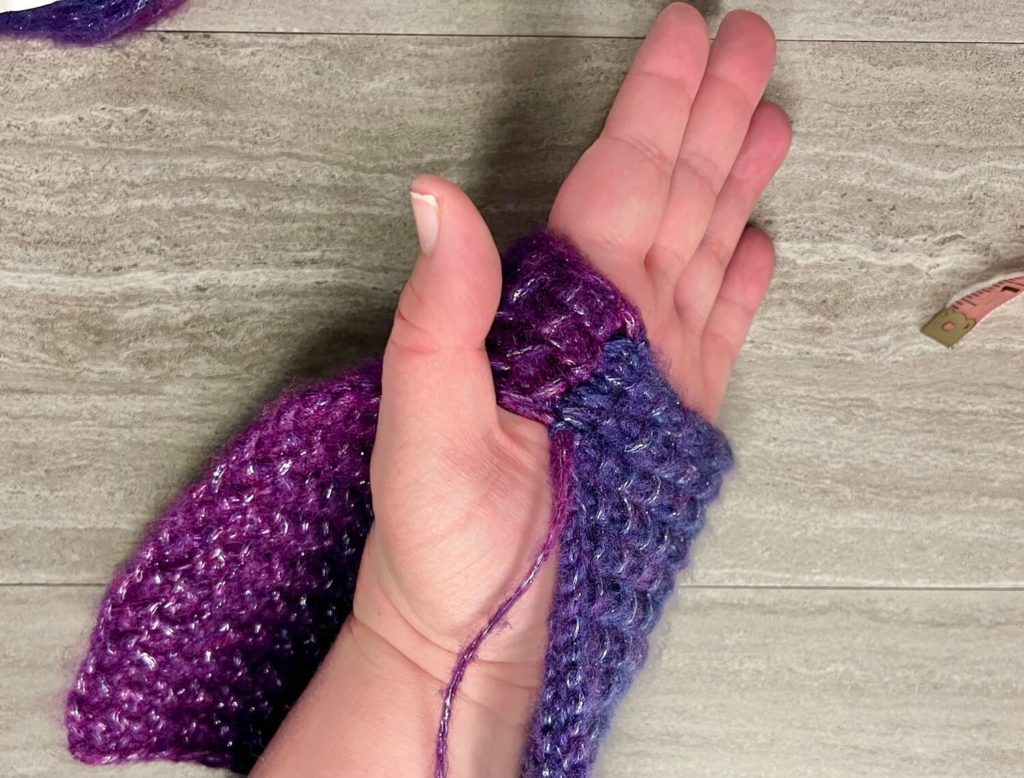 Step 1. Mattress stitch the hand section for an inch to an inch and a half or 2.5-4 cm long. Or just sew together until you think it's where you want it and slip it on your hand. Because you may want the glove to cover your knuckles. Or have them right under your knuckles, it's up to you.
Step 2. Pull your fabric to where you want it to be on the base of your thumb and leave an opening. Then use a safety pin or safety pin type stitch marker to mark this location.
Step 3. Mattress stitch from the bottom of your glove to where the marker for your thumb opening.
Step 4. Sew in ends. And finished!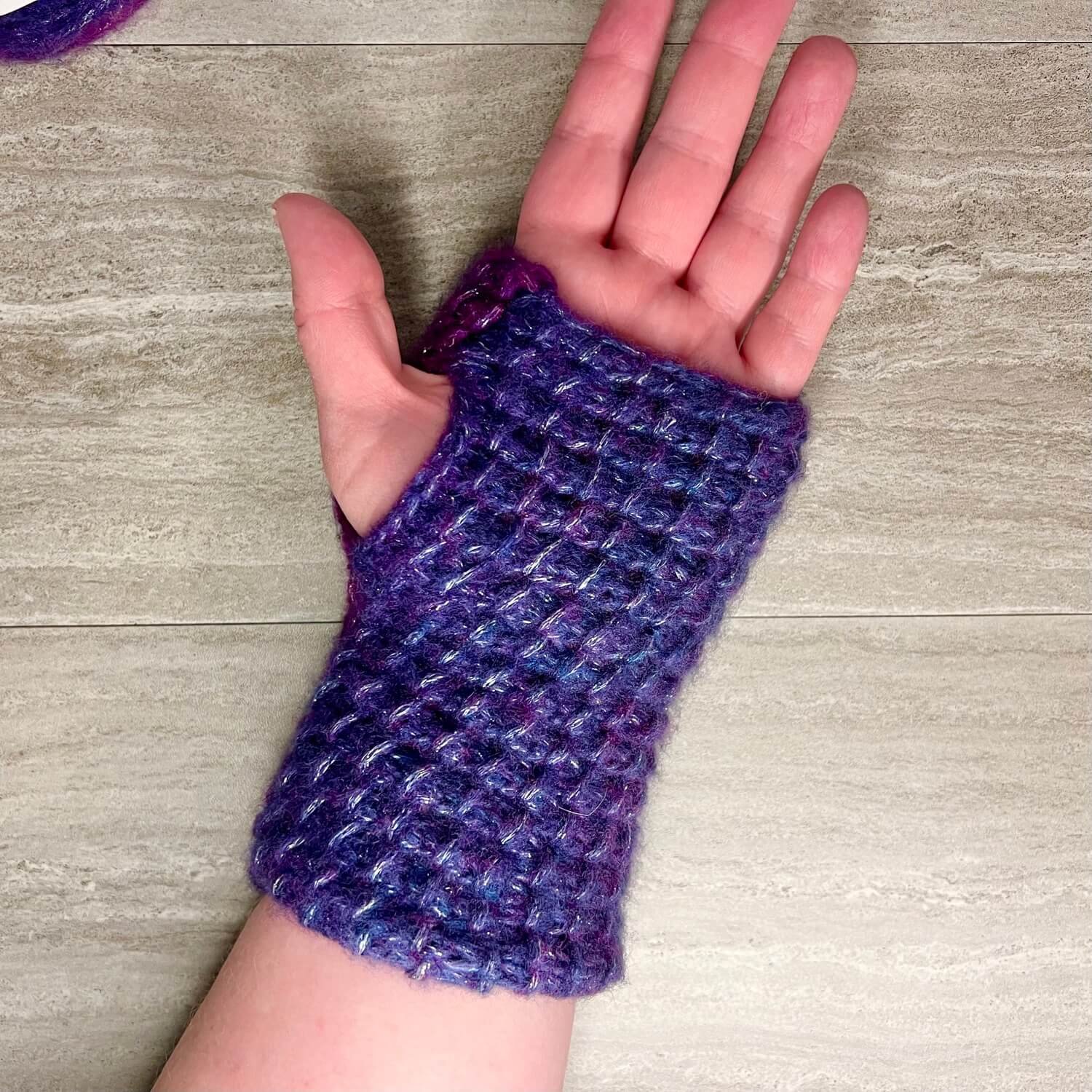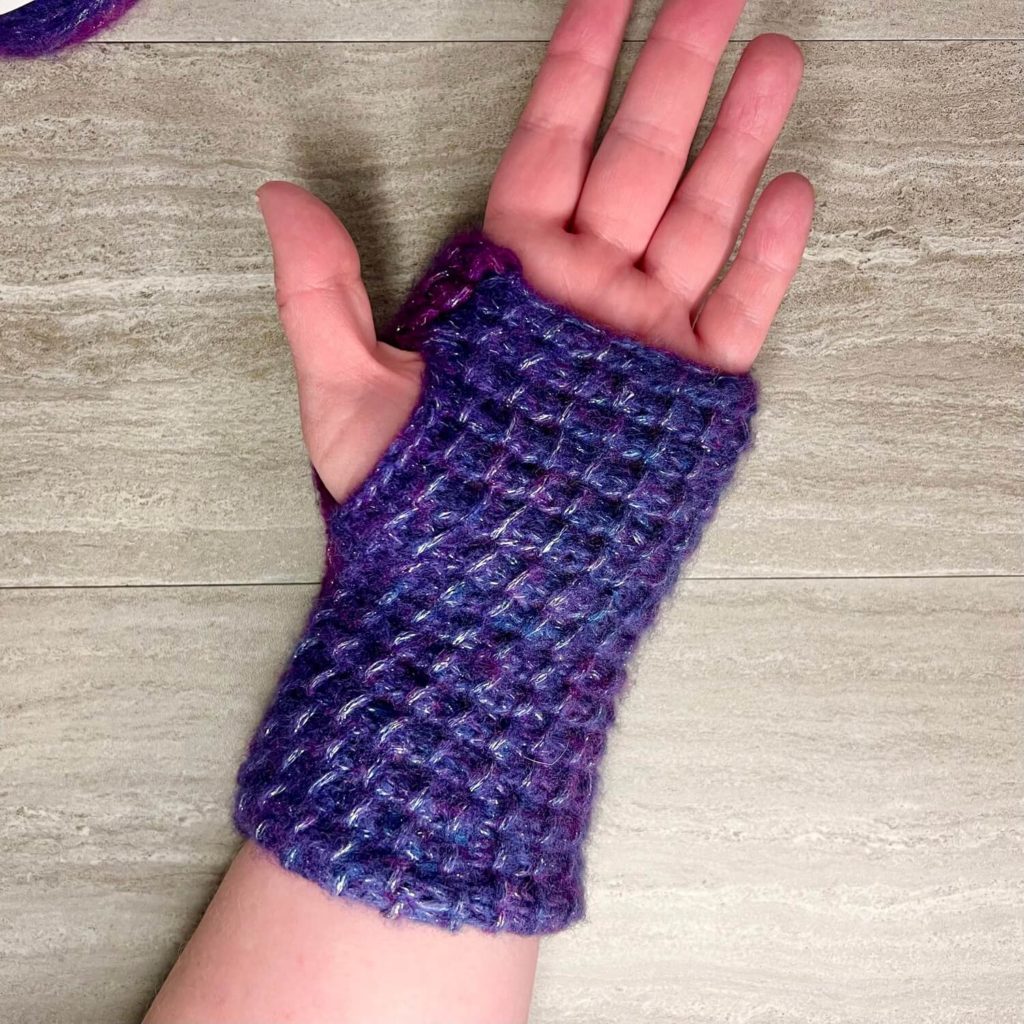 Need to learn how to mattress stitch? Click here. (Not a sponsored post or an affiliate)
Fashion Show!
Fingerless Gloves Knit My Way… Starring … YOU!
Gurl, I want to see them fingerless gloves! If you used the spreadsheet and you followed these instructions please, please, PUH-LEASE share it with me! And you can tag me on Instagram @ozzylosiknits #fingerlessglovesknitmyway Or send me an email lois@ozzylosiknitdesigns.com
Hugs & Happy Knitting!
Lois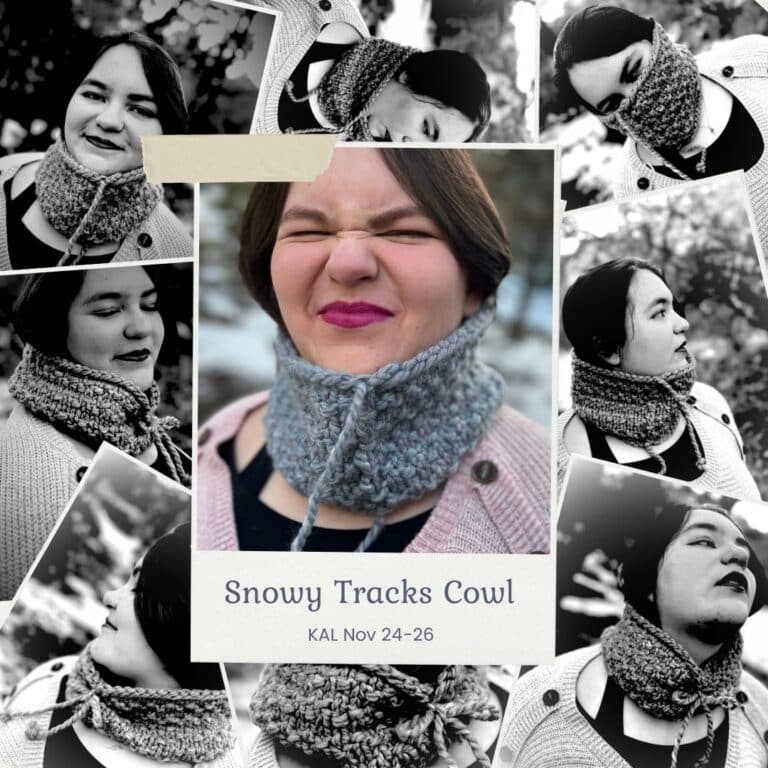 Snowy Tracks Cowl is a bulky weight knit cowl that is guaranteed to keep you warm this winter. Knit in the round from the bottom…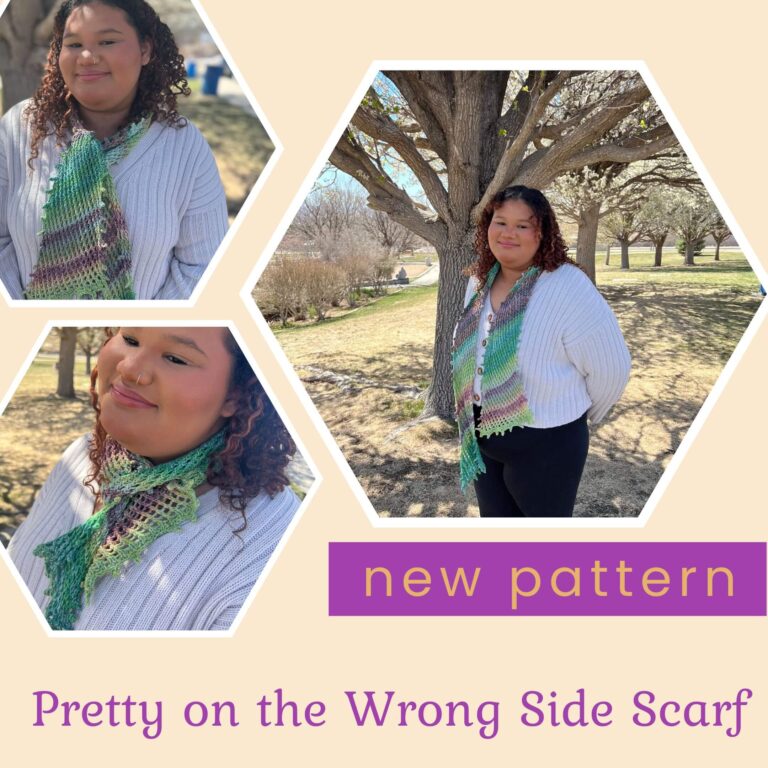 Hello friends! In my opinion, one thing that makes crochet preferable to knit is the fabric is often reversible. And certainly when it comes to…