Did you say free? My absolute favorite free knit patterns!
If you subscribe to my emails on Fridays, then you already know. Friday is for freebies. Friday is the day I take time to share with my email subscribers all about my absolute favorite free knit patterns. If you don't subscribe, now you see that you should. Because who doesn't love free?
Honestly, as a pattern designer myself, I do not know how people come up with these incredible patterns and then just give them away. It blows my mind because I know from experience just how much work it takes to make a pattern.
But I didn't know as a new knitter. And so I knit a lot of free patterns. Here's a list of some of my absolute favorites.
Disclaimer: A lot of these photos are terrible. That's because I was just snapping them as I knit, long before I ever thought about making a knit blog. My awful photography skills should not be counted against these amazing patterns. To see better photos click the links and see what the designers have done.
Free Knit Patterns for Babies
Mosaic Baby Blanket by Purl Soho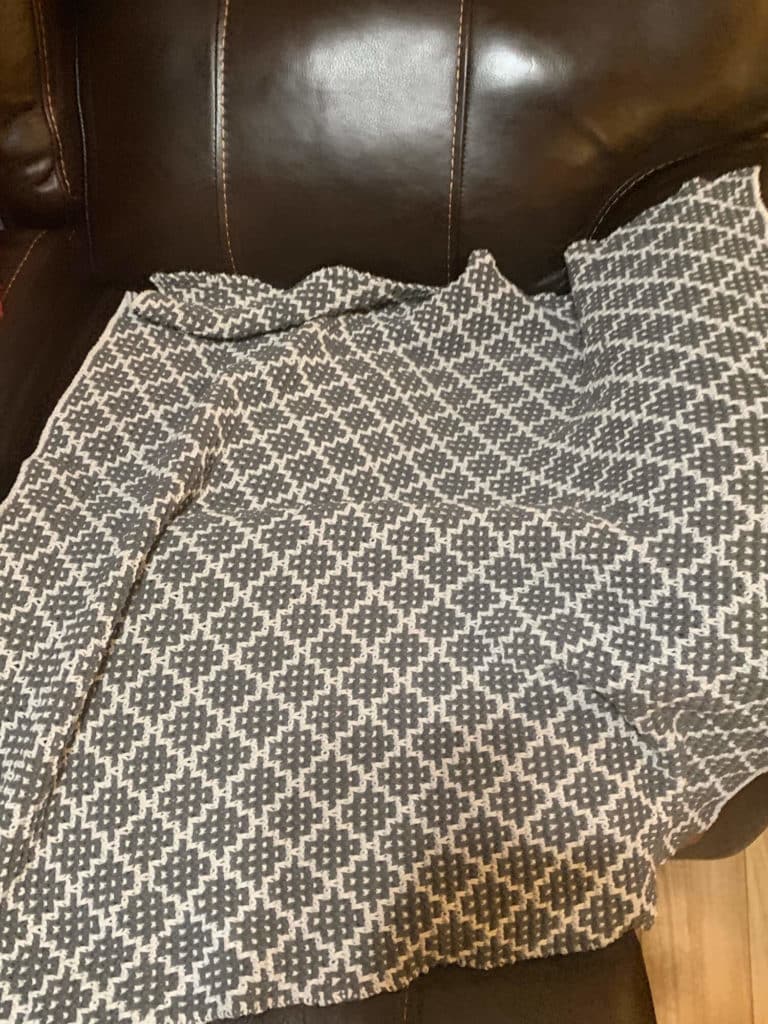 Purl Soho's Mosaic Baby Blanket
Knitters, have you met Purl Soho? If not, I'm so excited introduce you! Meet Purl Soho!
Everything Purl Soho does is absolute magic, and this gorgeous pattern is no exception. It was my first experience with mosaic style knitting. The instructions were clear and it made a delightfully squishy and beautiful baby blanket.
My friends were having a baby, and they like to wait until the baby's born. So, I was happy to have such a gorgeous gender neutral pattern and to be able to use these contrasting grey color yarns. They thanked me for this blanket every single time I saw them for about 2 years. Plus, they told me people would stop them where ever they went to comment on what a gorgeous blanket it is.
Thanks Purl Soho!
Sweet Fiber's Golden Pear Baby Hat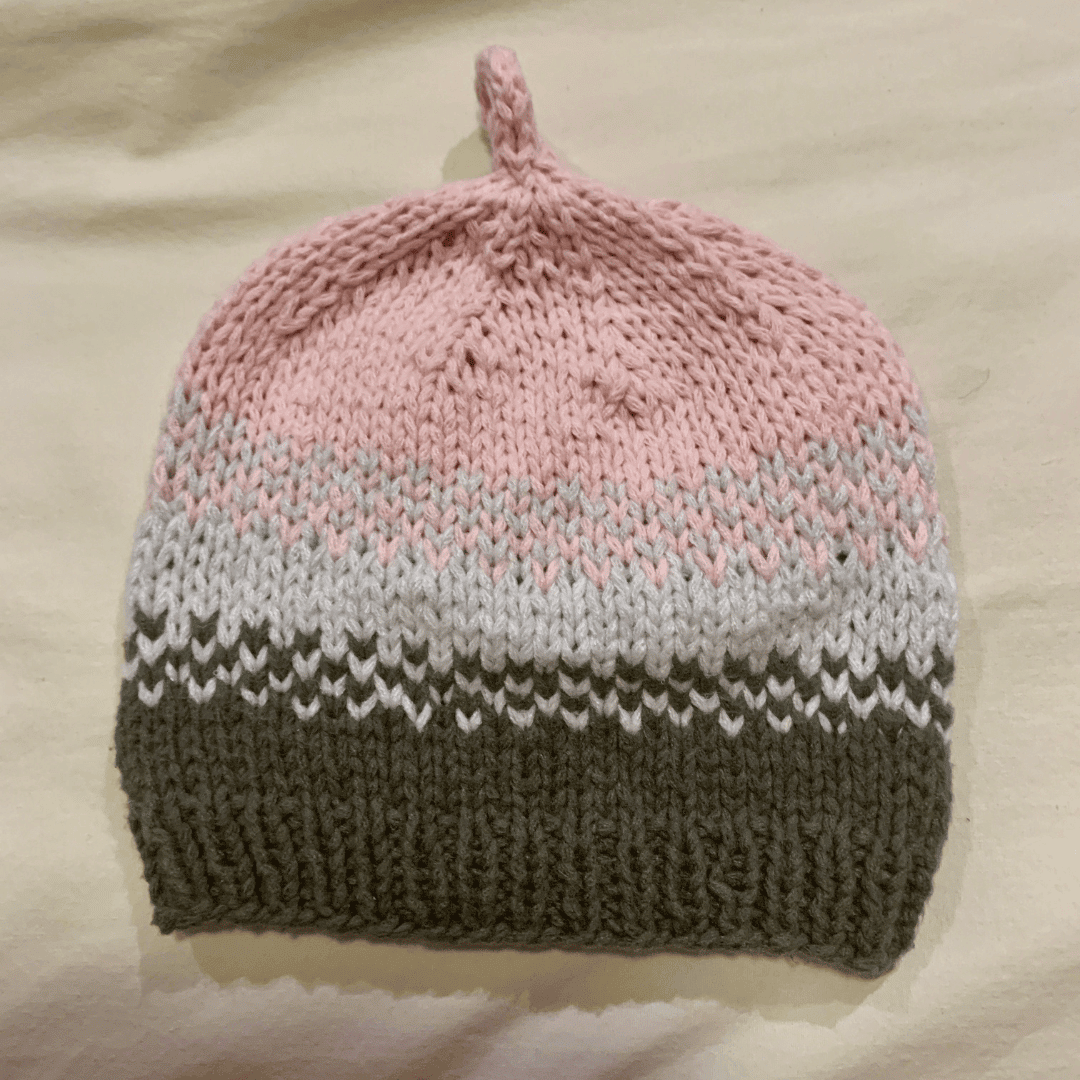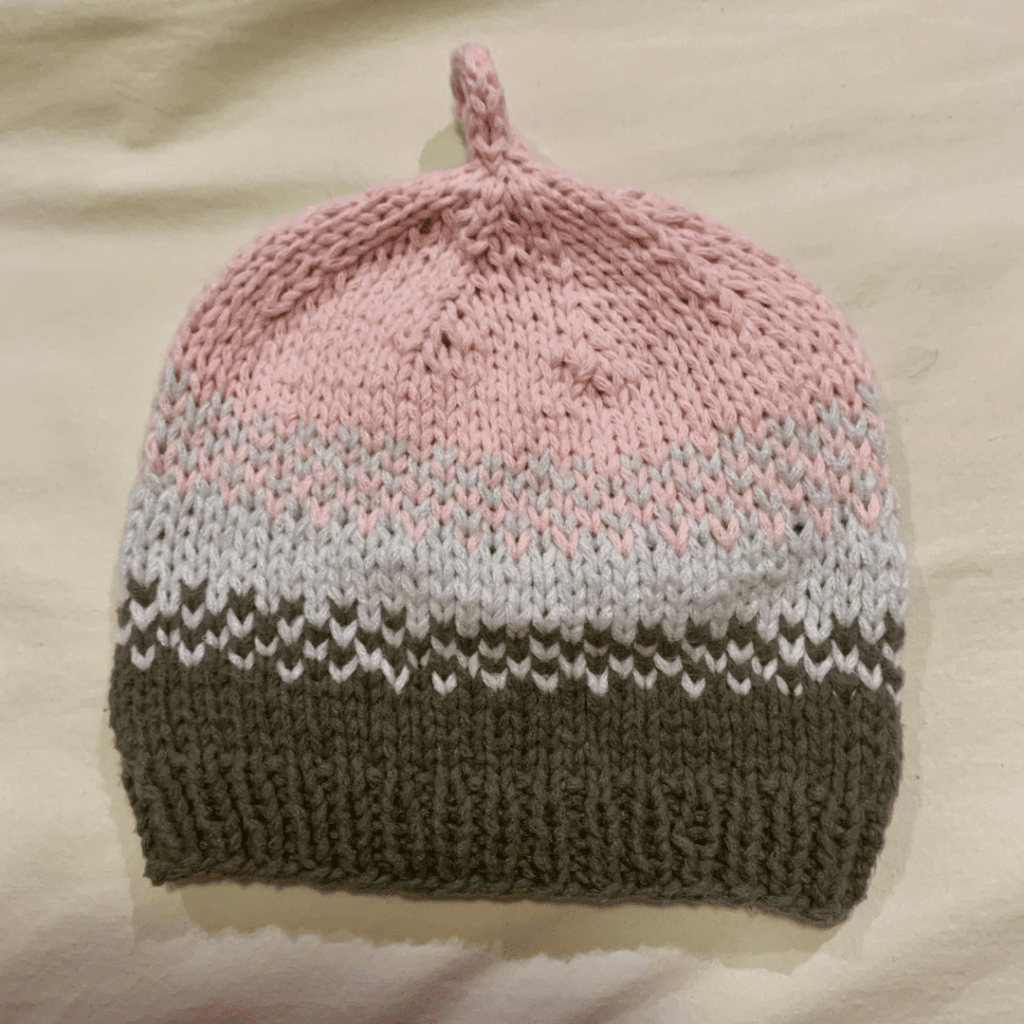 I wanted to make a cute little beanie to go with that Purl Soho mosaic blanket for my friends baby. When I found this gorgeous pattern by Sweet Fiber, I knew it was the one!
This pattern is free on the blog and is called Golden Pear and with three colors, the possibilities are limitless. It knit up beautifully and was an excellent stranded color work that was simple.
You can find the pattern here.
Thanks Sweet Fiber!
January Baby Hat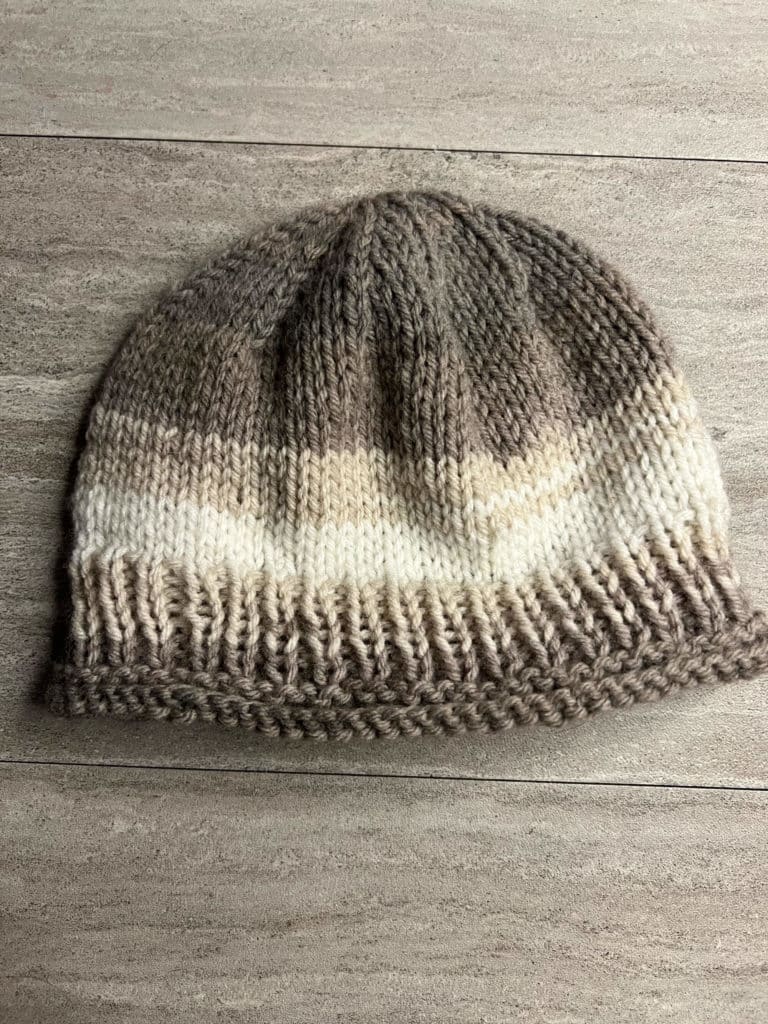 I found this pattern called January Baby Hat by Diana McKay and it is published in Mountain Colors Yarn on Ravelry.
This is a super simple and fun knit. It is all knit and purl stitches and the rolled brim will make it easy to stay on babys head and not be too tight but a nice little roll. I love the stockinette as it's such a classic look and the decreases all come together nicely on the top of the head – which honestly since we're making a baby hats – that's super important!
I did use the Baby Bee Sweet Delight yarn in the color way "Toy Elephant" but mine is striped? I think it's a discontinued yarn color. Anyway, I do not love this yarn. Surprise, it's from Hobby Lobby, not my favorite for yarns. But someone gave me this as a gift and I do like the colors, but I do NOT like the way the colors come through. It should be a nice striped yarn, but instead it has litte color hiccups here and there (you can see them in the picture) which I just found annoying. It is soft, and they are nice shades of neutral beige/grey/tan. Just not my favorite to knit with.
I think I may make another one of these beanies so baby will have them through out the first year.
Thanks Diana McKay!
---
Free Knit Beanie Patterns
Springtime in Philadelphia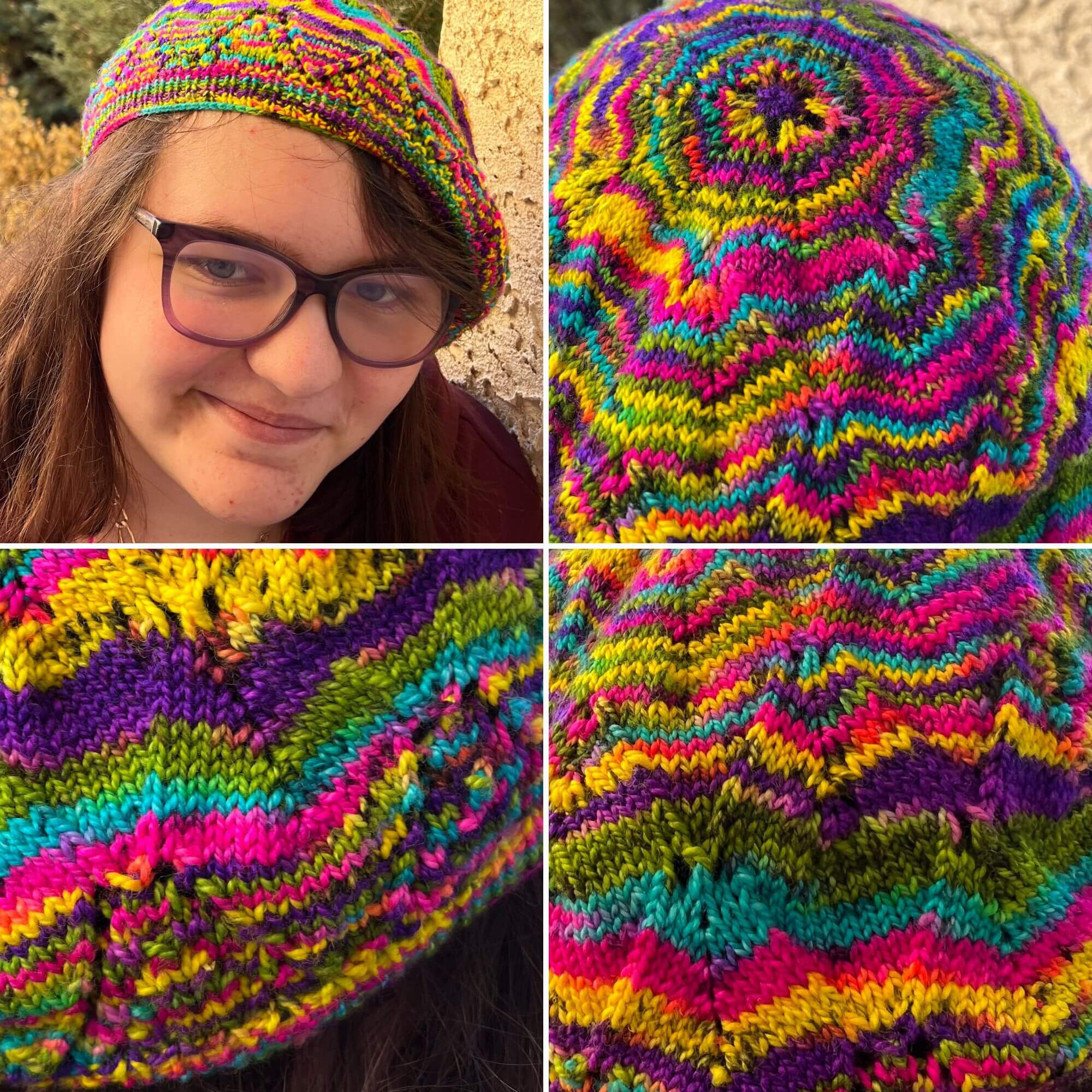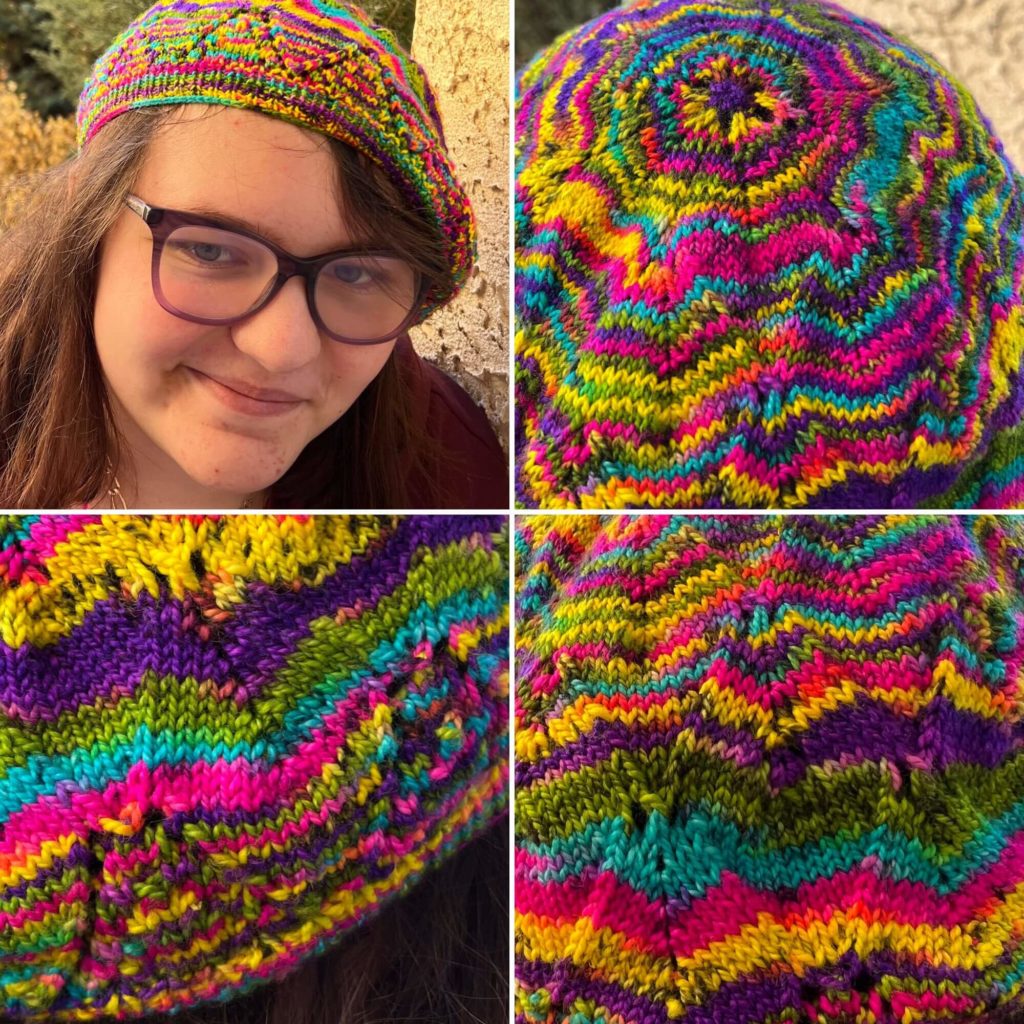 I knit the Springtime in Philadelphia by Kate Gagnon Osborn with Madeline Tosh in the Pinata Pop colorway.. This beanie pattern is available as a free ravelry download. Or you can purchase this pattern in an ebook with 9 other gorgeous patterns. And if you aren't taken with how this pattern looks in the Pinata Pop colorway, you should definitely check out the design's page on Ravelry, because it is a stunning pattern.
The pattern was simple enough to follow, though you do need to pay attention. I ended up frogging a few times becuase I was just knitting and not paying attention. So, I would definitely NOT call this a mindless knit. It does require chart reading skills. It is knit from the top down which is nice, and I enjoyed the way it took shape while knitting.
I chose this pattern because it was more involved, and I wanted to see how it would knit up with the color changes. I am not disappointed. I absolutely love the way the yarn looks for different stitches. How it's striped in some sections, and looks spotted in others. It truly is a fun hat.
---
Marly Bird's 2022 Game Day MAL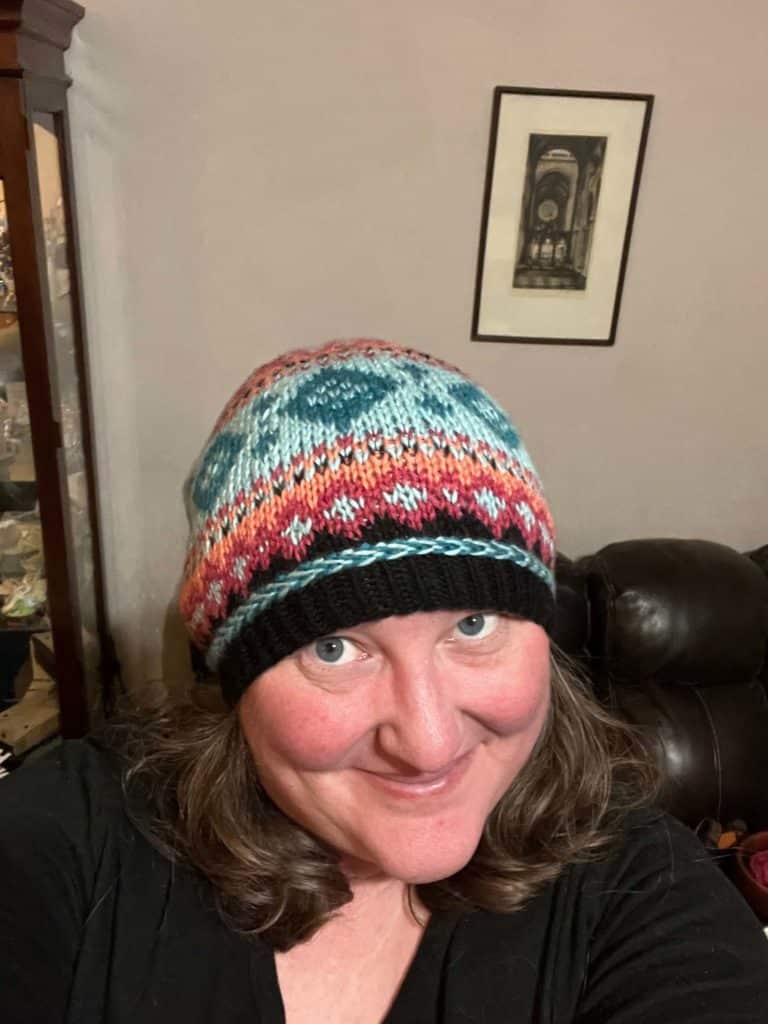 This gorgeous hat is the 2022 Game Day Make-a-long by Marly Bird. I have done the Marly Bird MAL's since I first began knitting. It's a great way to learn new skills. This particular pattern is a favorite of my whole family. The design plus the colors is so pretty!
Because this was a MAL the free version of this pattern is available on Marly Bird's website, but you do have to do quite a bit of clicking around to get to all the instructions. You can also opt to purchase the pattern and get a downloadable PDF.
I knit this using the Knit Picks Swish Worsted in the colors Voyage Heather, Wonderland Heather, Rose Heather, Conch and Black. This yarn is a merino, and it has excellent stitch definition and is really wonderful to knit with. Plus it comes in a wide variety of colors.
Marly Bird makes the mystery MAL's color selections pretty easy. With this she let us know in advance that we wanted to pick two colors in contrasting shades and a neutral. I decided to go with a Southwest color theme and absolutely LOVE the way it all came together.
Thanks Marly Bird!
---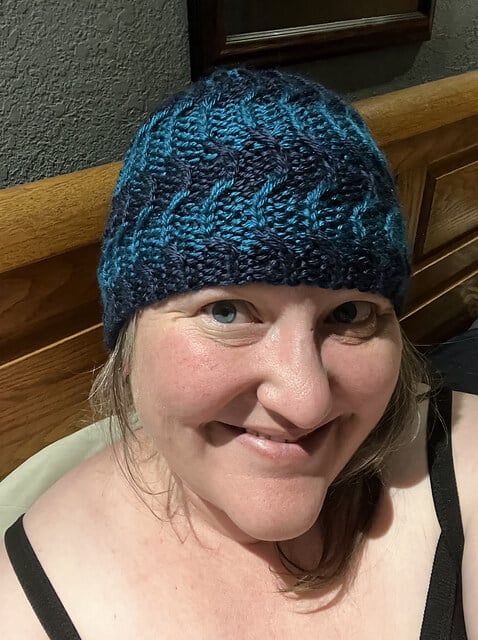 Shilo Weir's Breckle Hat
This fabulously fun pattern is called Breckle Hat pattern by Shilo Weir. This pattern is a free Ravelry download. You can check out Shilo Weir's website over at Forever Handmade by clicking here.
I had a little bit of yarn left from two different balls of Caron Simply Soft. So I decided to knit this baby up. In the end, I love this hat – and I definitely love the design. But, well check out Shilo Weir's sample – the colors of the yarn are AMAZING and truly show case this design much better than my version did.
I recommend this pattern very much. It's got some interesting stitch patterns, and yet it's not too much for my "stockinette stitch only" hubby. It fits very comfortably, and will keep your noggin nice and warm while we brave through the rest of this freezing winter.
Since I had this yarn before I learned to keep my labels, I can only guess which colorways these Caron Simply Soft yarns were. But I do believe the dark blue one is "Dark Country Blue" and the teal is "Ocean"? Maybe? I am not super positive on that one.
Either way Caron's Simply Soft yarns are exactly as they say they are simply soft. If you like a yarn with a bit of a shine to it plus really soft this one is for you. I'm not a fan of the shiny yarns myself. Like I like them, but I don't like shiny clothes. I prefer a matte black to all the shine.
Thanks Shilo Weir!
AndreSue Knits KitKat Hat Pattern
---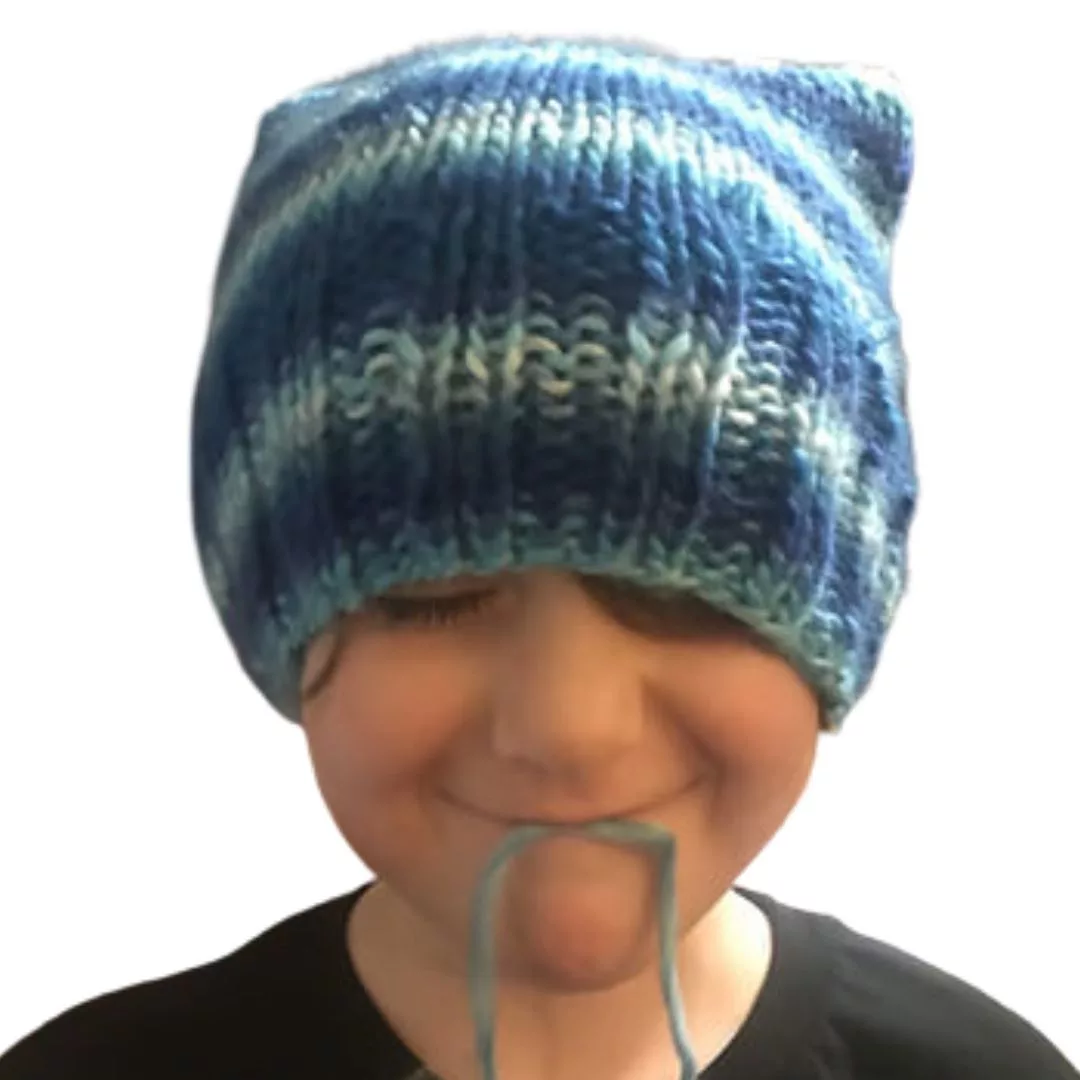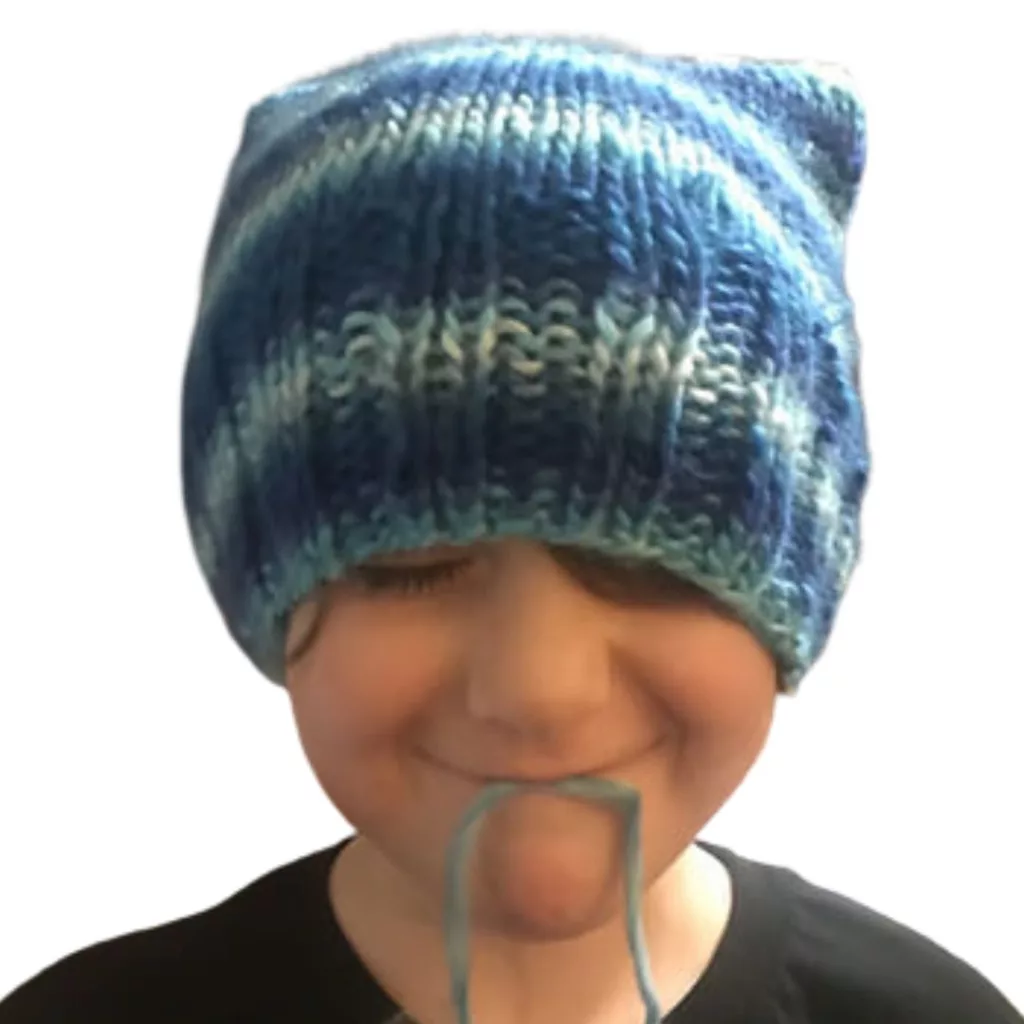 This is one of the very first knit hats I ever made. The pattern is simple to follow, and requires no double pointed needles. Just knitting stockinette in the round and a bit of ribbing. Plus my kids LOVE cats!
I believe the yarn that I used was Loops & Threads Facets, though I do not have a record of it for sure, and the colorway looks like it is no longer available. This yarn is super super soft, and it has a bulky weight number, but it can stretch pretty thin. It's also very light which made it a bit difficult for me to work with as a newer knitter.
KitKat hat was a successful knit! So much so that I actually made this pattern again and again so each of my kids could have multiple cat ear hats. I knit it with many different yarn types too, including some faux furs.
Here is a link to the KitKat Hat pattern on AndreSue Knits blog.
Thanks AndreSue!
---
Free Sock Knitting Patterns
Simple Short Sock by Meghann Holcomb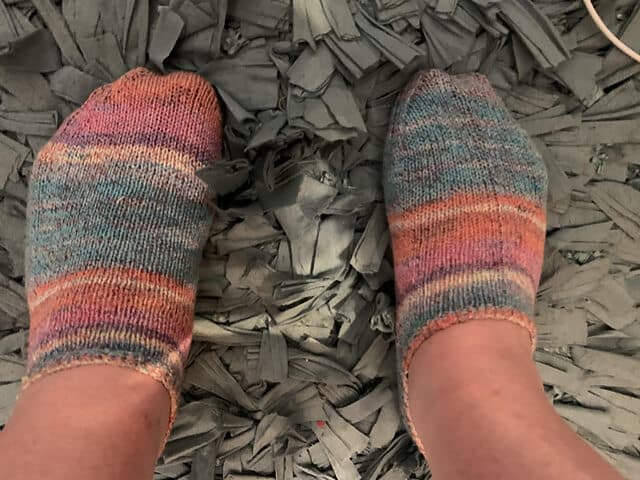 These are the Simple Short Sock pattern by Meghann Holcomb of Radiant Twist. This was a really nice and simple knit. The instructions were easy to follow and I had no issues at all. I would definitely knit these again, because since they are so short they also make for a quick knit despite the tiny little stitches.
I knit these with Premier Yarns Cotton Collage in the Party Multi colorway. Because my yarn has changing colors, I think it added some interest. I really liked the way that this particular yarn with the rainbow stripes ended up looking. I also liked that the socks are not 100% matchy and that the colors hit in different parts of the socks.
Thanks Meghann Holcomb!
Grizzly Socks by Anna Radchenko of WollyWood
---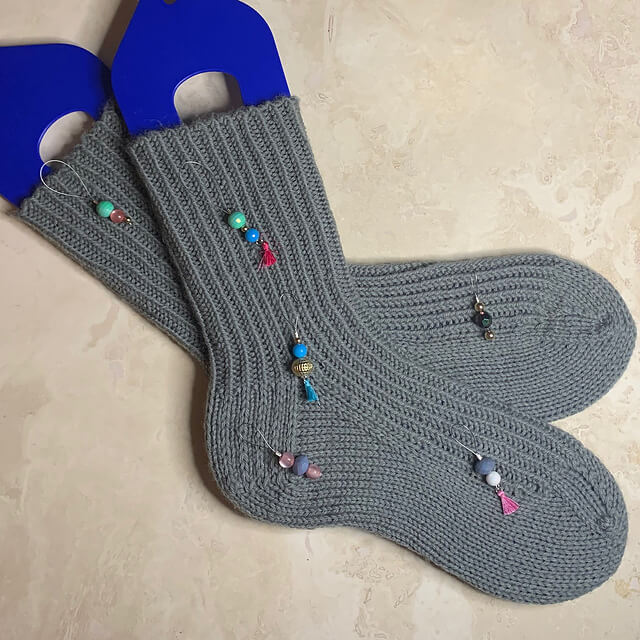 These are the Grizzly Socks by Anna Radchenko of WollyWood. I knit these socks for my husband, because they were "manly" enough for him. And I really liked the pattern. Even though, I think this was only my second pair of socks ever, the instructions were very easy to follow. I also loved the rib pattern that went all the way to the toes. And especially how the ribs went nicely into the slightly ribbed portion of the heels. I think it looks awesome!
I knit them with Baby Bee Sweet Delight in the color Toy Elephant. This skein of yarn was a gift from my husband, which just so happened to be in a color he would approve a knit item in. LOL. Of course he's changed his ways now, just the other day he was running around wearing a bright turquoise hat. I will say that the yarn was very soft, but way to pilly for my liking. Nubs everywhere!!!
Thanks Anna Radchenko!
---
Free Knit Headband Patterns
Headband with a Twist by Mirella Moments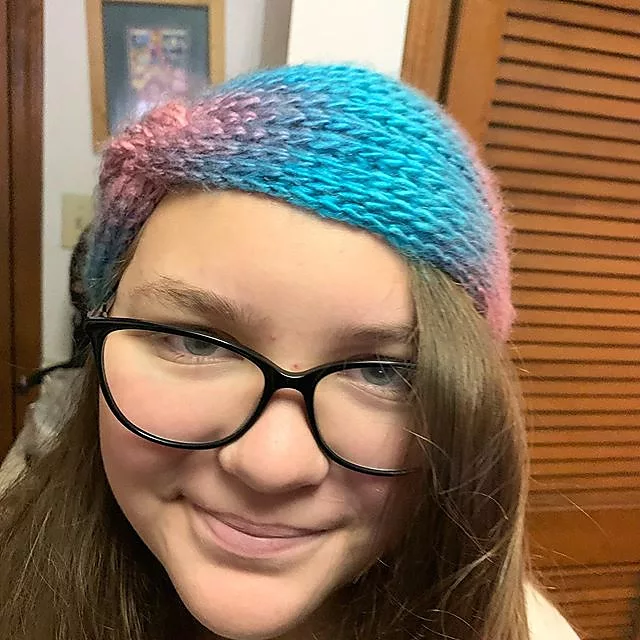 This is the Headband with a Twist by Mirella Moments on their website. This fabulous pattern is a quick and easy knit featuring English Rib. It is knit flat and the seam gets hidden in the twist. The best part of this pattern is the photo tutorial that is included for every single step of the pattern.
I get so many compliments on this headband. Honestly, it's fun to wear just for the compliments! I think in part the compliments come from the yarn that I used. Unfortunately it is discontinued. It was the Red Heart Boutique Unforgettable in the color way "Candied".
Thanks Mirella Moments!
---
Free Knit Cowl Patterns
Gris de Lin by Berangere Cailliau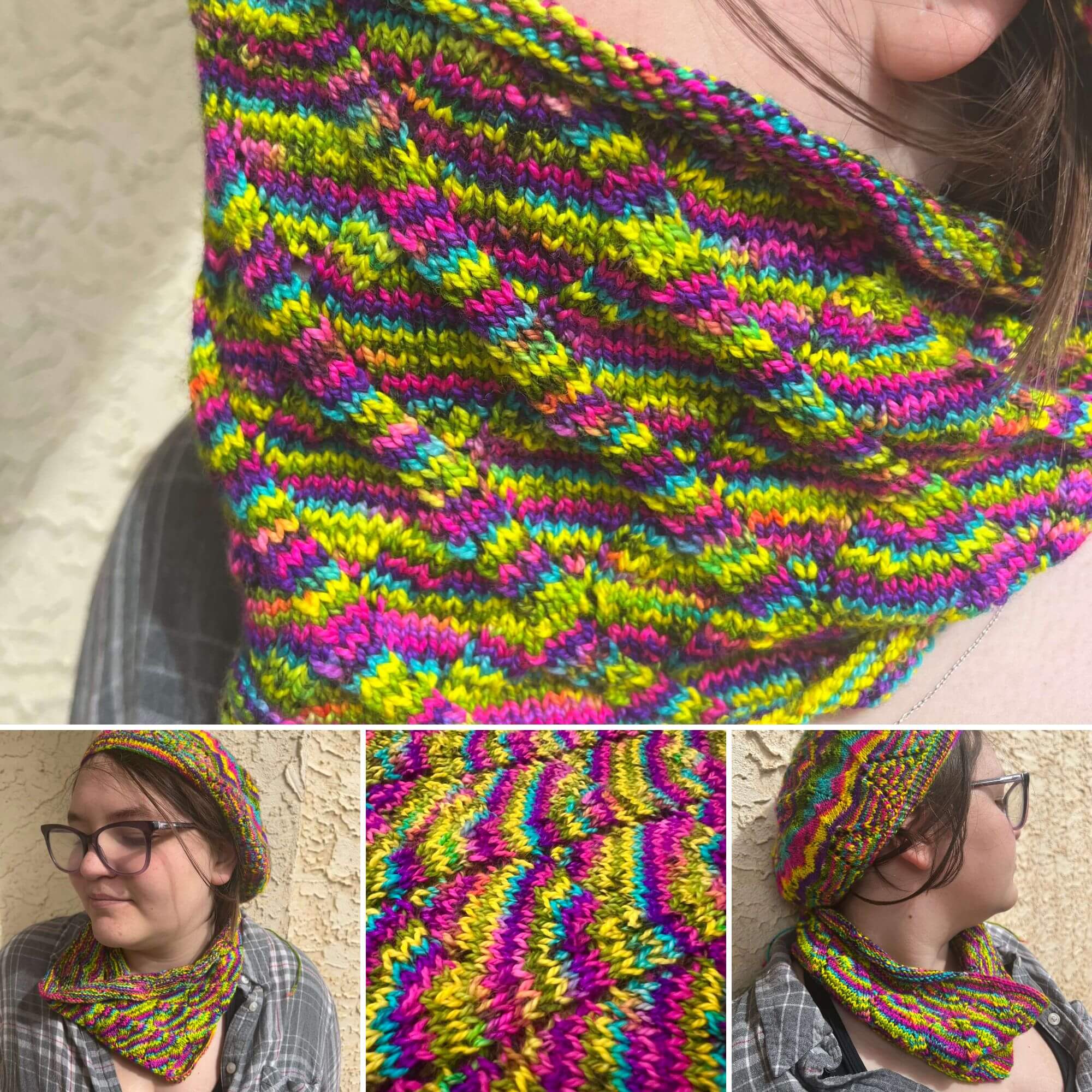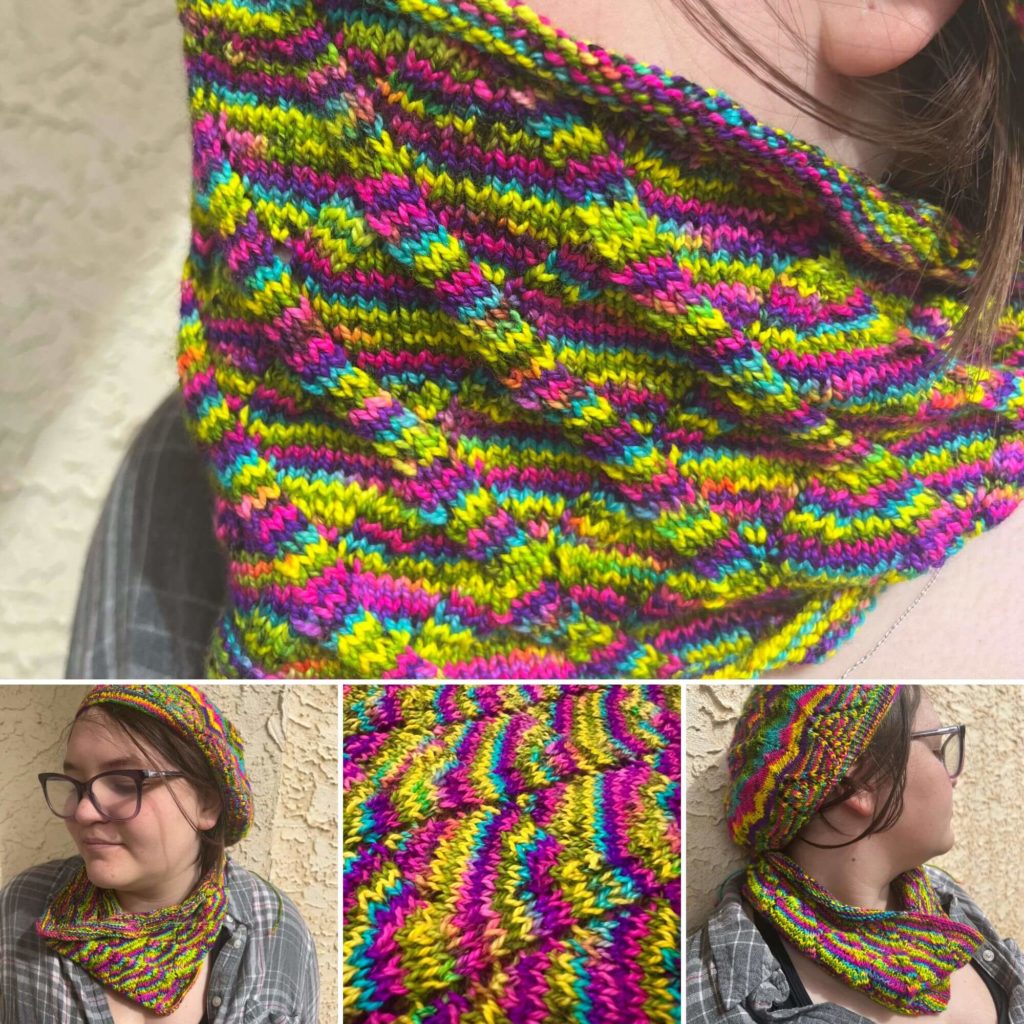 I found this one for the Gris de Lin by Berangere Cailliau and fell in love!
This pattern is easy to knit up, and I have to be honest, I ended up altering it a little. I cast on about 132 stitches instead of 108. The pattern does call for 108, but it is a 12 stitch repeat and I wanted it to have a little more room.
Once you get in the rhthym of this knit, it can easily be knit while doing other things. It's also a great opportunity to try learning to read your knitting. The pattern comes with written instructions and a chart. It is knit in the round with a simple garter stitch border.
Thanks Berangere Cailliau!
Piccadilly Cowl by Barbara Vilas Boas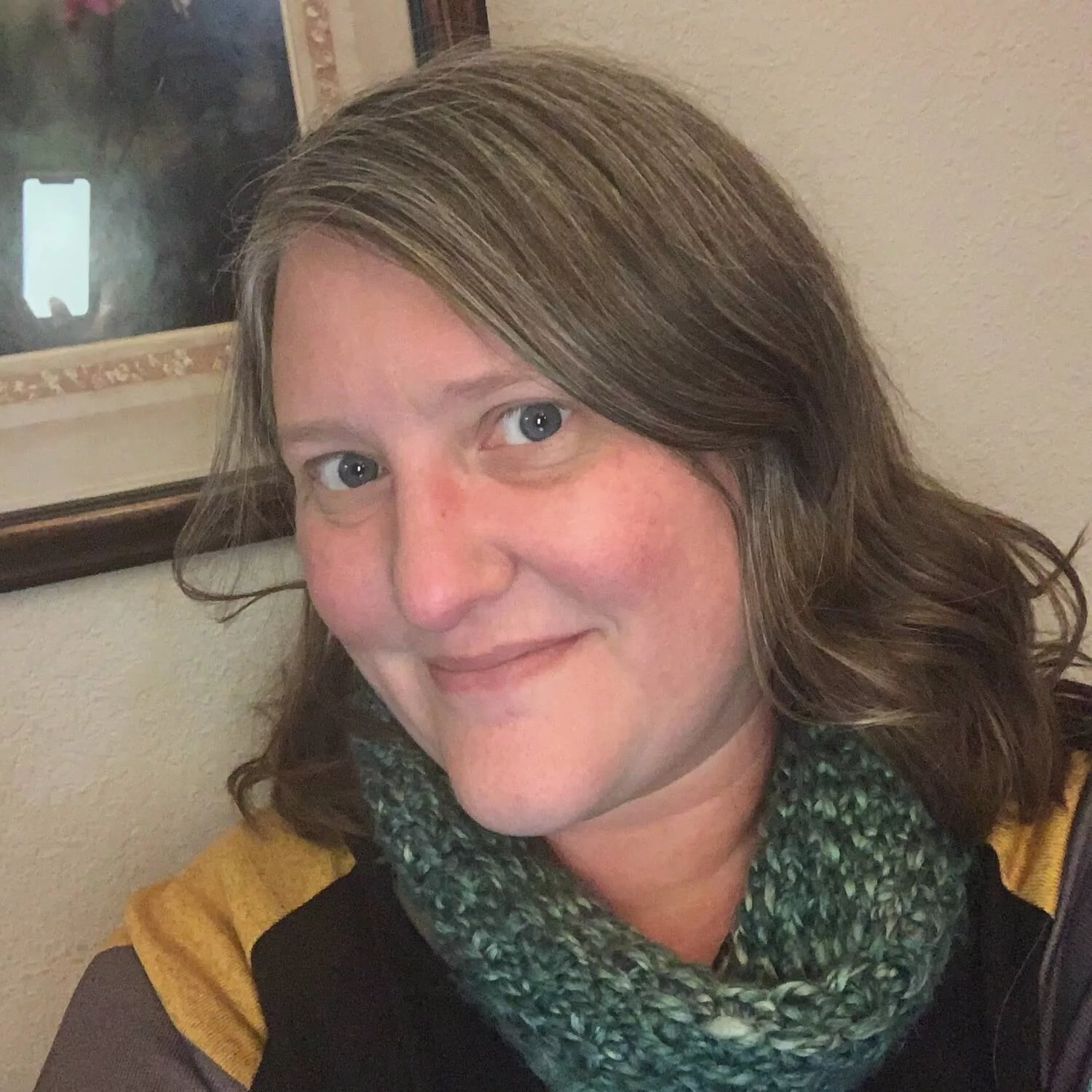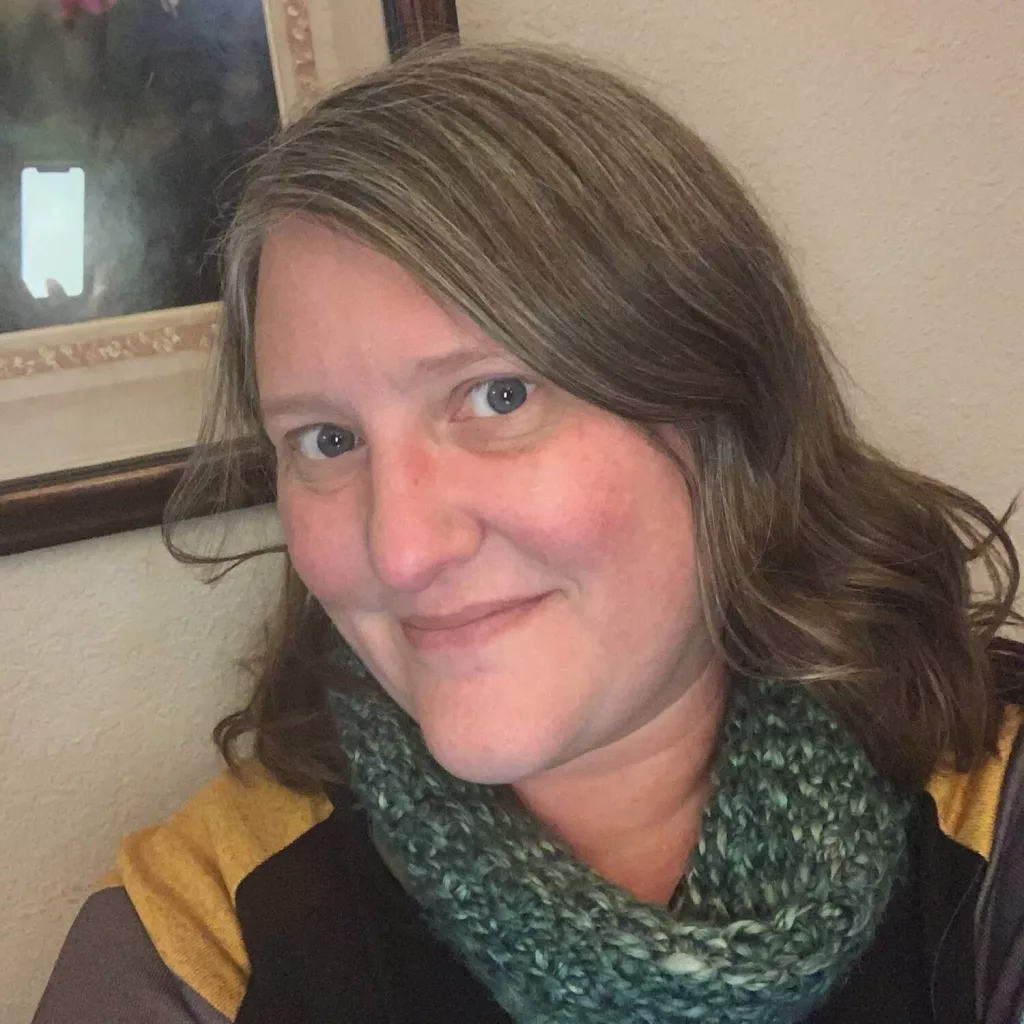 This is the Piccadilly Cowl pattern by Barbara Vilas Boas. I actually knit this for someone as a gift. Then I loved it and they didn't know I was knitting it for them, so I kept it. That's how much I love this knit.
I had found this Yarn Bee Dream Spun at Hobby Lobby on a sick clearance. Seriously I got two balls for like $1 each. It is in the Meadow colorway. Super soft. Nice and bulky. This knit up very quickly, very beautifully. It did use 1 and 1/2 balls of the yarn. So it did take up quite a bit of yarn, but totally worth it. I love this thing. I wear it a lot.
And since I was planning to give it as a gift, I know it's an excellent gift knit. The bulky weight yarn will knit up very quickly. And if the weather is cold the gift receiver will probably be so happy to put it on right away!
Thanks Barbara Vilas Boas!
Building Bridges Cowl by Balls to the Walls Knitting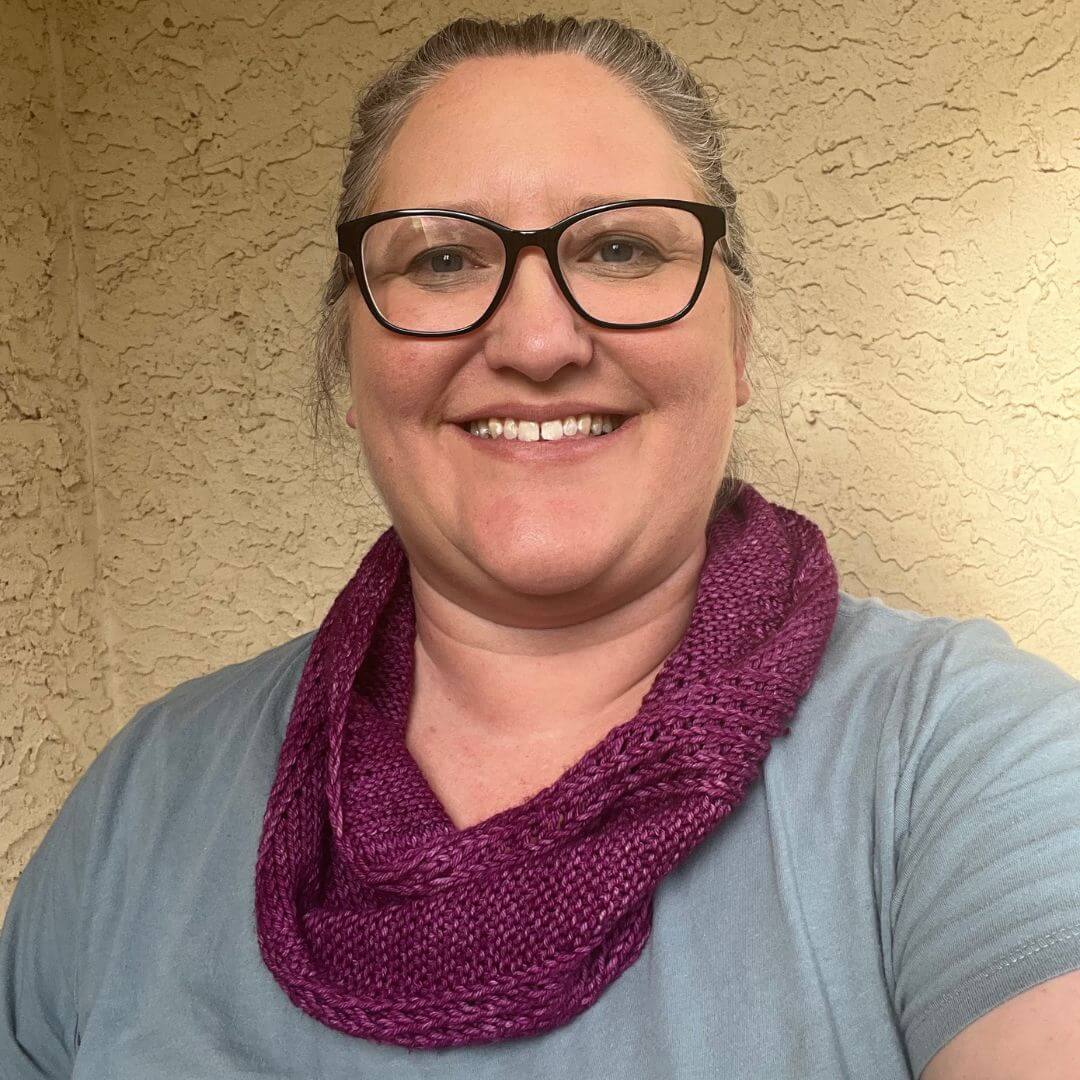 This is the Building Bridges Cowl pattern by Gretchen Tracy of Balls to the Walls Knits.
I had one glorious skein of Malabrigo Rios, in I can not remember which colorway. If you've been around me at all, then you know my love for Malabrigo Yarns. Because I only had one skein, I didn't have quite enough yarn to knit the entire pattern. I ended up doing just one repeat, and I think it came out great!
The pattern was easy to follow, and I loved the way the stitches created such an interesting pattern. It is not a complicated pattern, but you will want to pay attention so you be sure to get those gorgeous lines.
Thanks Gretchen Tracy!
---
Free Knit Patterns for Ponchos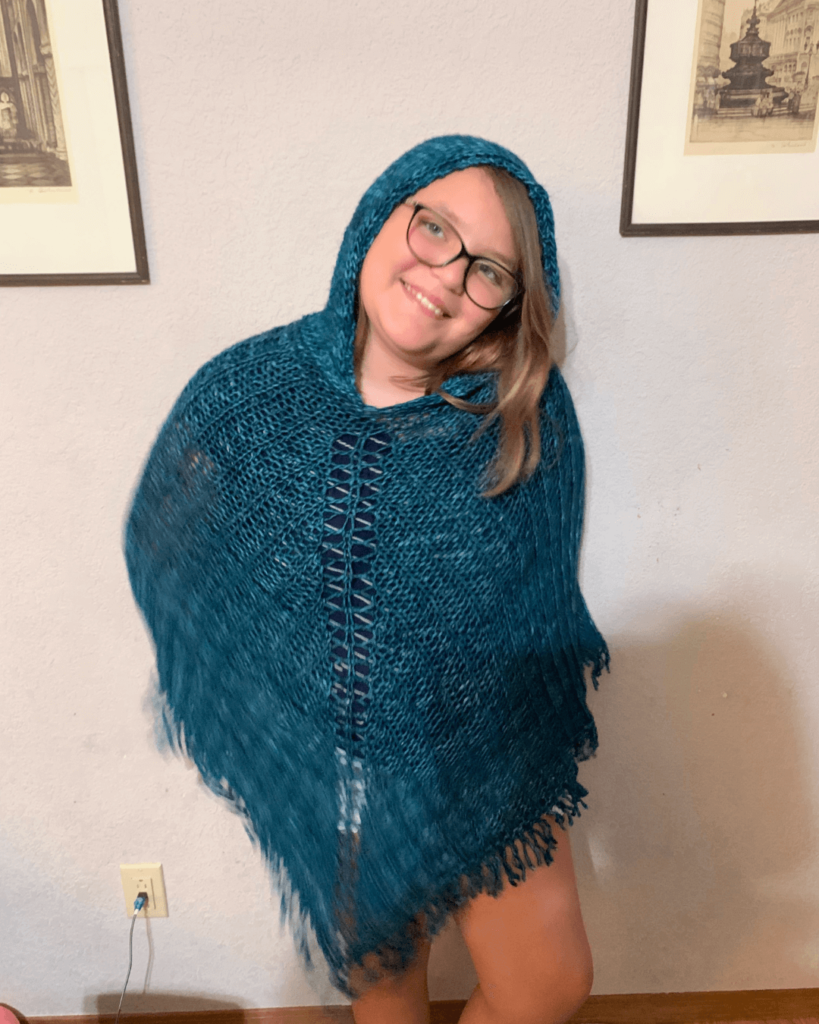 Drops Design Earthling Poncho Knit Pattern
Oh how I love this pattern! This is Earthling by Drops Design. They have lots of free patterns that are gorgeous. I have knit only this one I believe, but have many in my "favorites" on ravelry… Maybe some day I will get to them.
I did not use Drops yarn. Instead, I purchased my first ever batch of Malabrigo Rios yarns, and fell madly in love. This was the most luxurious yarn I had ever knit with up to this point.
Anyway, this pattern was fun to knit and had enough interest happening that I had to pay attention. And I love the way it turned out. I will note that there are comments on this pattern that say it is a complicated pattern. I did not find that to be true. But it's always good to read what other people comment on a pattern as it will generally help you as you are knitting.
Here is a link to the Earthling poncho pattern.
Thanks Drops Design!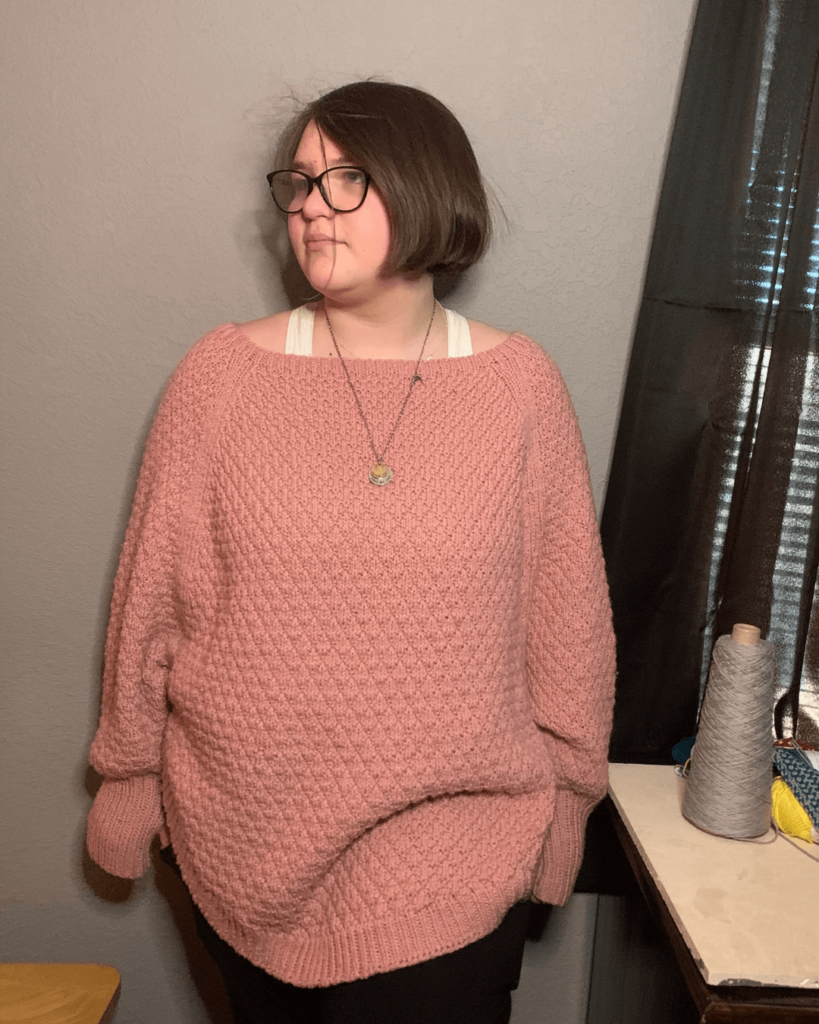 Caron Great Curves Free Poncho Knitting pattern by Yarnspiration Designs
I had my eye on this pattern for MONTHS. Then one black Friday, I headed to Michael's and bought a TON of Loops & Threads Impeccable yarn in this gorgeous pink. Then I began knitting myself this poncho. I was so excited! I was going to have this gorgeous sweater thingie I could wear over a tank-top – perfect for me.
Then my daughter saw the swatch. She saw the pattern. And before I knew it had claimed it as her own as a Christmas gift no less. Suddenly, I was knitting fast and furious to gift my daughter the poncho I wanted! How do kids do this to us parents? But isn't she the cutest?
Anyway, she gets TONS of compliments on this sweater/poncho thingie. She wears it frequently, and not one time has she gone out of the house and not received a compliment. She's so sweet too because she makes sure to tell me. And she tells them "Thanks, my mom made it!"
Warms the heart, right?
This pattern takes a bit of reading. I would read through this pattern before I knit it up. And in fact, I also tested out some of the instructions on my swatch before knitting and that really helped me knit this up better. I added the extra long cuffs with thumb hole. Those aren't in the pattern.
You can find the Caron Great Curves Poncho pattern for free on Yarnspirations website. Click here.
Thanks Yarnspirations!
---
Home Accessories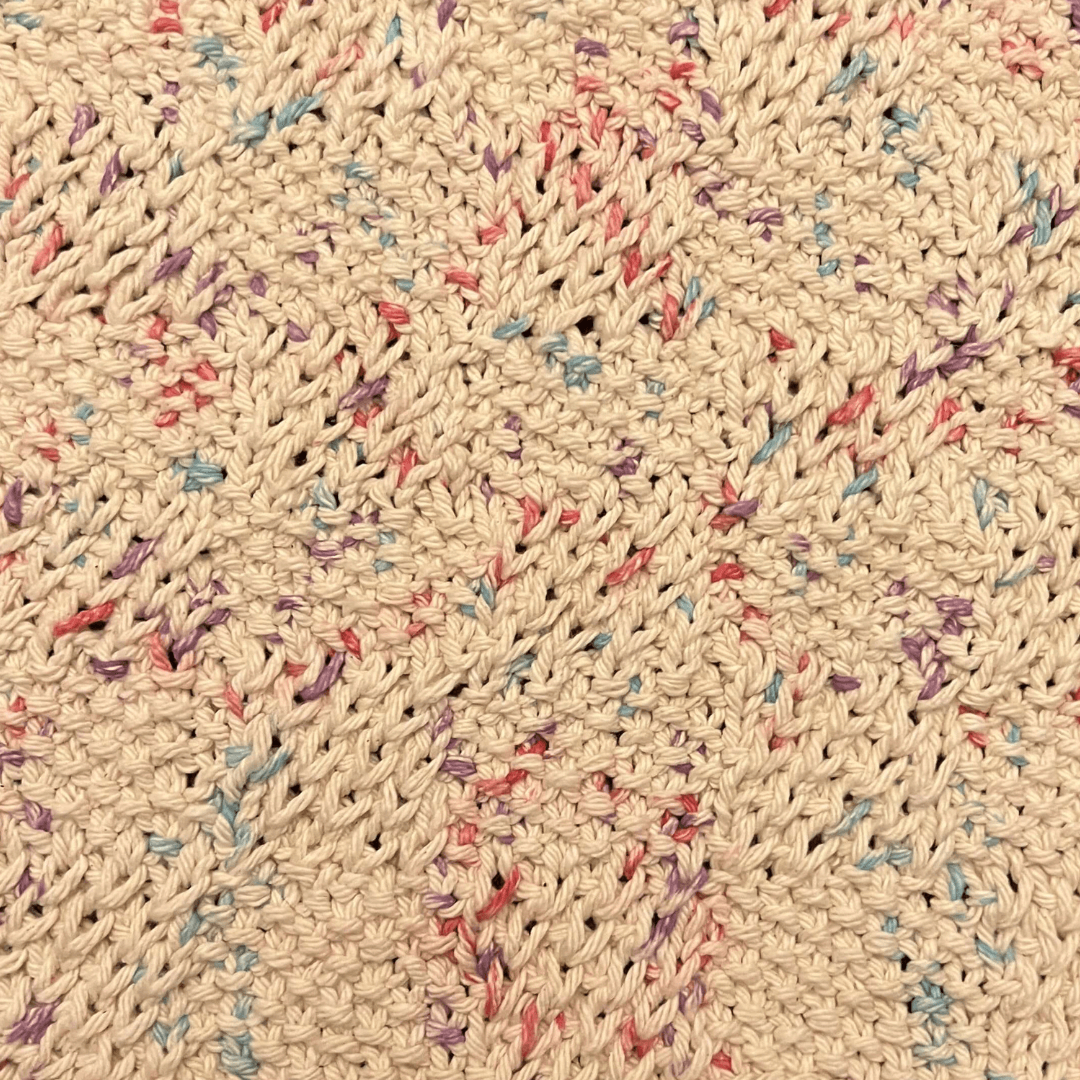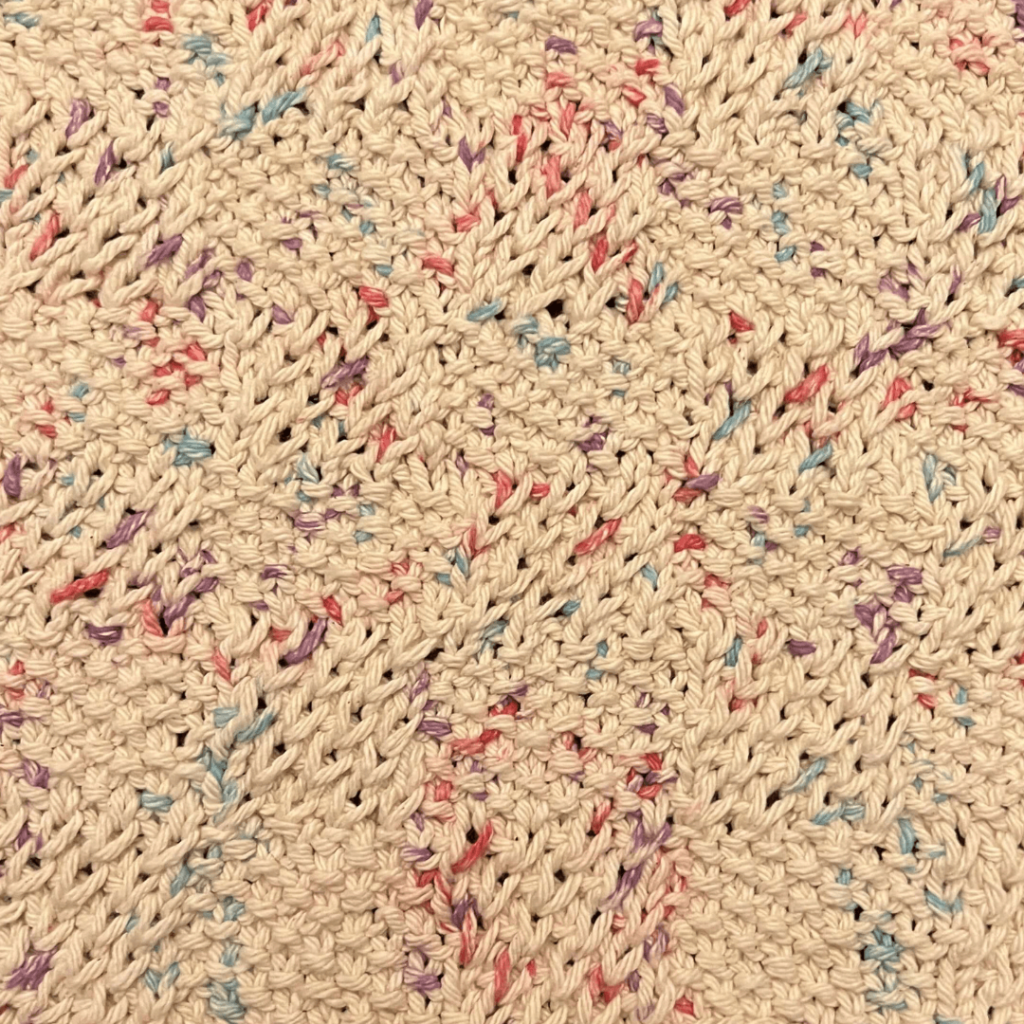 The Hopscotch Washcloth pattern by Deborah Newton published by Purl Soho is awesome. Like all Purl Soho patterns this one is easy to read, easy to knit, and creates a beautiful finished object. The simple repeated pattern is one you can easily remember and work while watching Schitt's Creek, which is what I did the other evening. 
I knit mine with Lily Sugar & Cream cotton yarn, and I have no idea what the color way is. I love the colors, but the yarn is not my favorite to work with. You can see in the photo that it's so stiff that it makes the pattern look less than perfection.
Thanks Deborah Newton and Purl Soho!
OzzyLosi Knit Designs Free Knit Patterns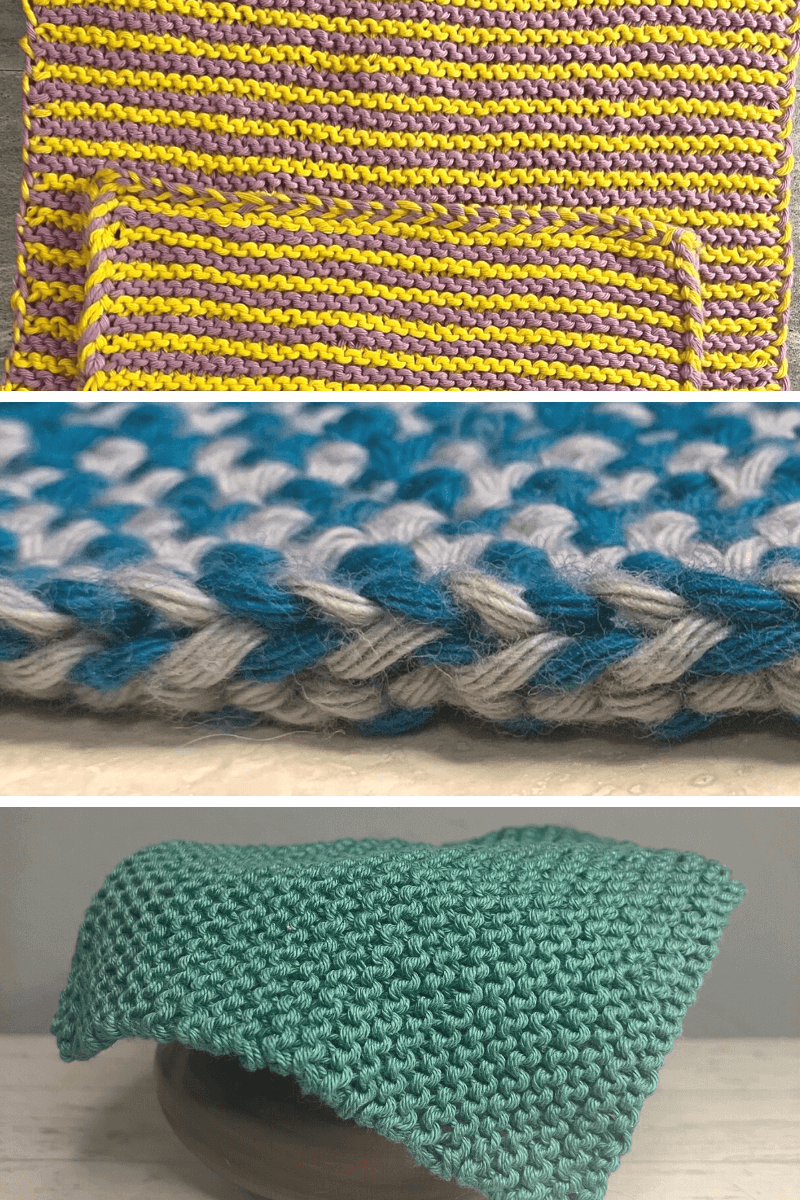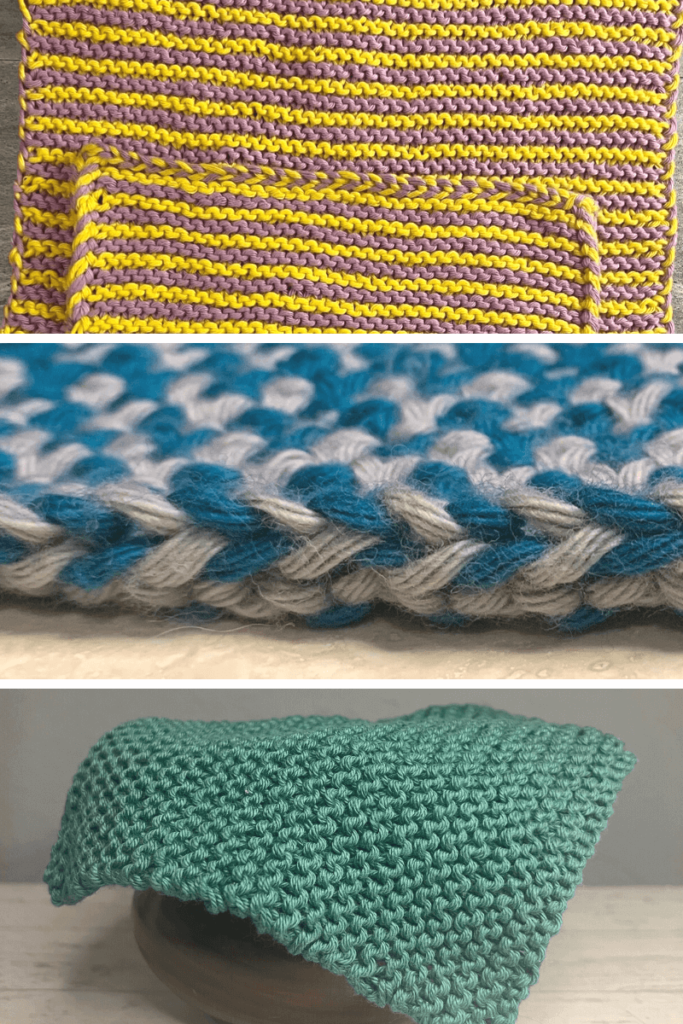 I have to include mine right? It's weird not to?
Each of my patterns, especially dishcloth patterns are designed specifically to teach a skill or advance a skill. From top to bottom the patterns are: Stripe Right (learn to knit with more than one color, comes with optional edgings to advance your skills), Scrub & Swipe (two-color linen stitch, comes with a two-color braided cast-on and bind-off), Simple garter stitch dishcloth – for brand new beginners!
I'm a new designer, so far these are the patterns I have for free. They are all dishcloths. Check them out. They have been tech edited, test knit, etc.
Do you have a favorite free knitting pattern?
Comment and let me know below! I'd love to see what you've been knitting up!
Hugs & Happy Knitting
Lois