The Pretty on the Wrong Side Scarf Knitting Pattern is AVAILABLE NOW!
Hello friends! In my opinion, one thing that makes crochet preferable to knit is the fabric is often reversible. And certainly when it comes to scarves having them reversible just makes sense! The wind blows, they move around – we want something pretty on the right side, AND pretty on the wrong side. Well, good news – that's exactly what this new knitting pattern, the Pretty on the Wrong Side Scarf is all about!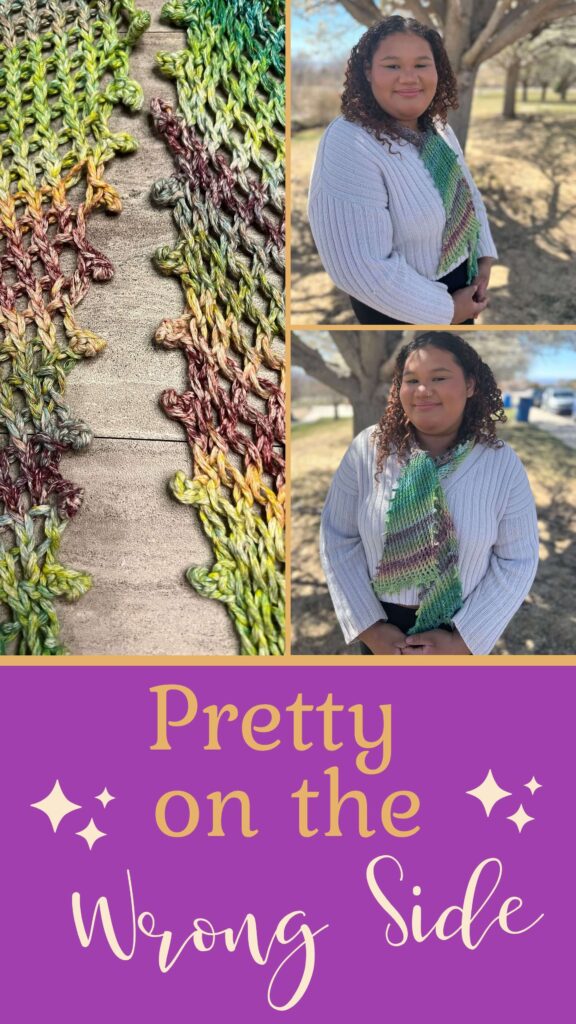 A Pretty on the Wrong Side Stitch Pattern
I made this gorgeous swatch and decided to make it into a pattern. But I happened to be in the middle of several other things. So, I set the design aside, and never forgot about it. From time to time, I would come back to this swatch and say "Just finish it and get the pattern out already!" But I didn't do that, and I sure am glad.
I actually still have that original swatch. Here's a picture. This is knit with "Chloe" yarn, this is a gross yarn. I mean, it looks beautiful, but it's scratchy and I kind of hate it.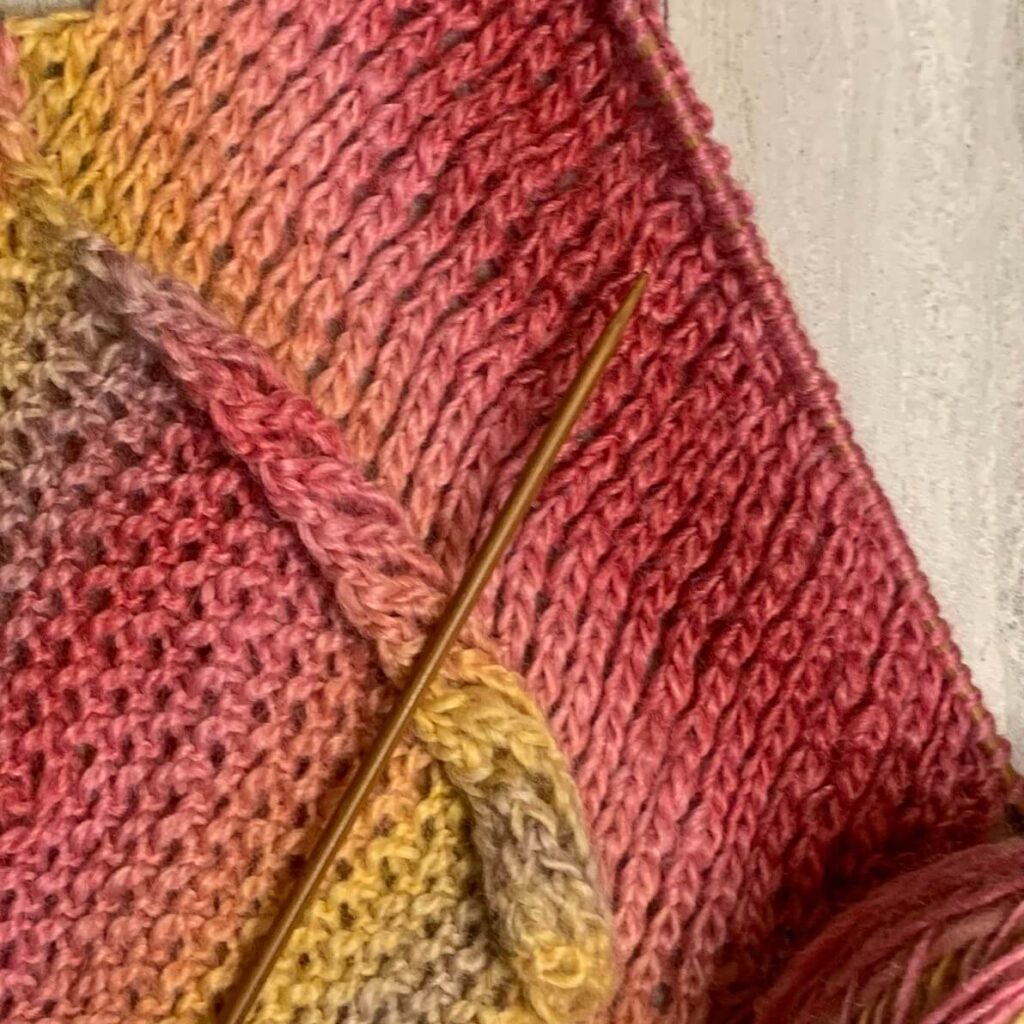 I love the colors of this yarn, truly! But it is so irritating to my skin. It feels like it's just scratching me all the time. So I've used it a lot for swatches to try things out, but not for any finished knits.
Anyway, I decided at the beginning of 2023, that this would be the year that the Pretty on the Wrong Side scarf would finally make its debut! And though I knew the main stitch pattern, I still had a lot of other decisions to make.
Yarn that leaves a good impression…
I knew that this would be a fabulous spring, summer or autumn time knit. The mesh fabric, and the way that it looks pretty on either side, say "bring it on wind! I'll look good no matter what." The mesh fabric keep it from warming you too much on those hot summer days. And since the weather in spring and autumn can be iffy, I thought a scarf that could easily be wrapped around your neck if it gets too cold, or could be worn open and fluttering in the breeze would be the best design.
I went to my LYS (Local Yarn Store) the Yarn Store at Nob Hill, and looked through the yarns they had on site. I wanted something cotton, I wanted a lighter weight yarn, and if it could be luxurious in feel and looks, that would be amazing!
We went around and around the store, and you know what? A lot of cotton yarns do not have the the luxurious feel I was hoping for. They just tend to be a little stiff. But then, I spied with my little blue eye, some gorgeous looking yarn in beautiful shades of blue, green, and violet! Gentle specks of white throughout. Could this be the one?
I touched it, and yes. It IS the one! I selected Ella Rae Impressionist in the Water Lilies colorway. This yarn is not 100% cotton, but that's exactly what makes it so soft and amazing! It is a hand painted yarn, and the entire line is inspired by impressionist paintings. It's no surprise that I was instantly drawn in by Water Lilies as it reminds me very much of Monet's Water Lilies paintings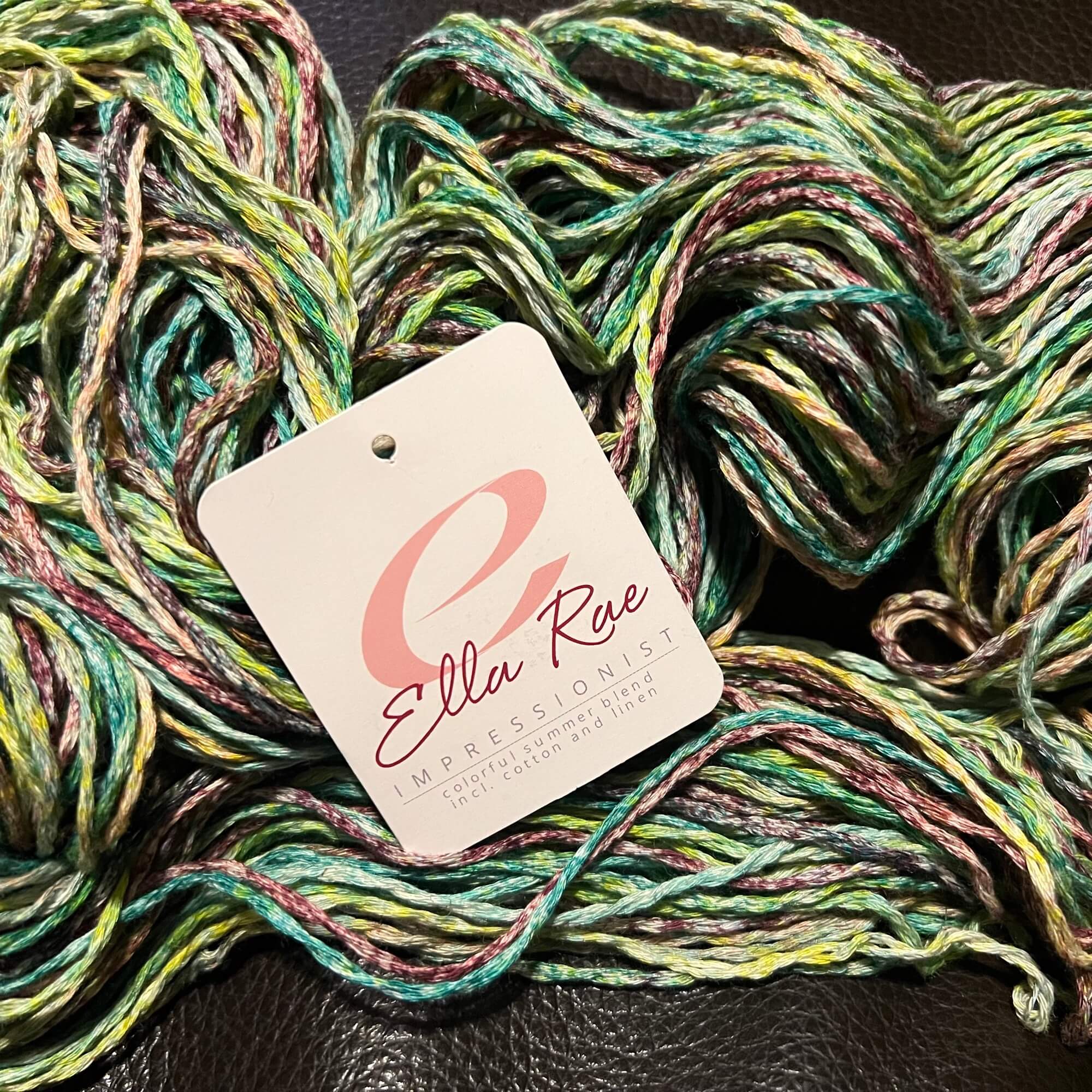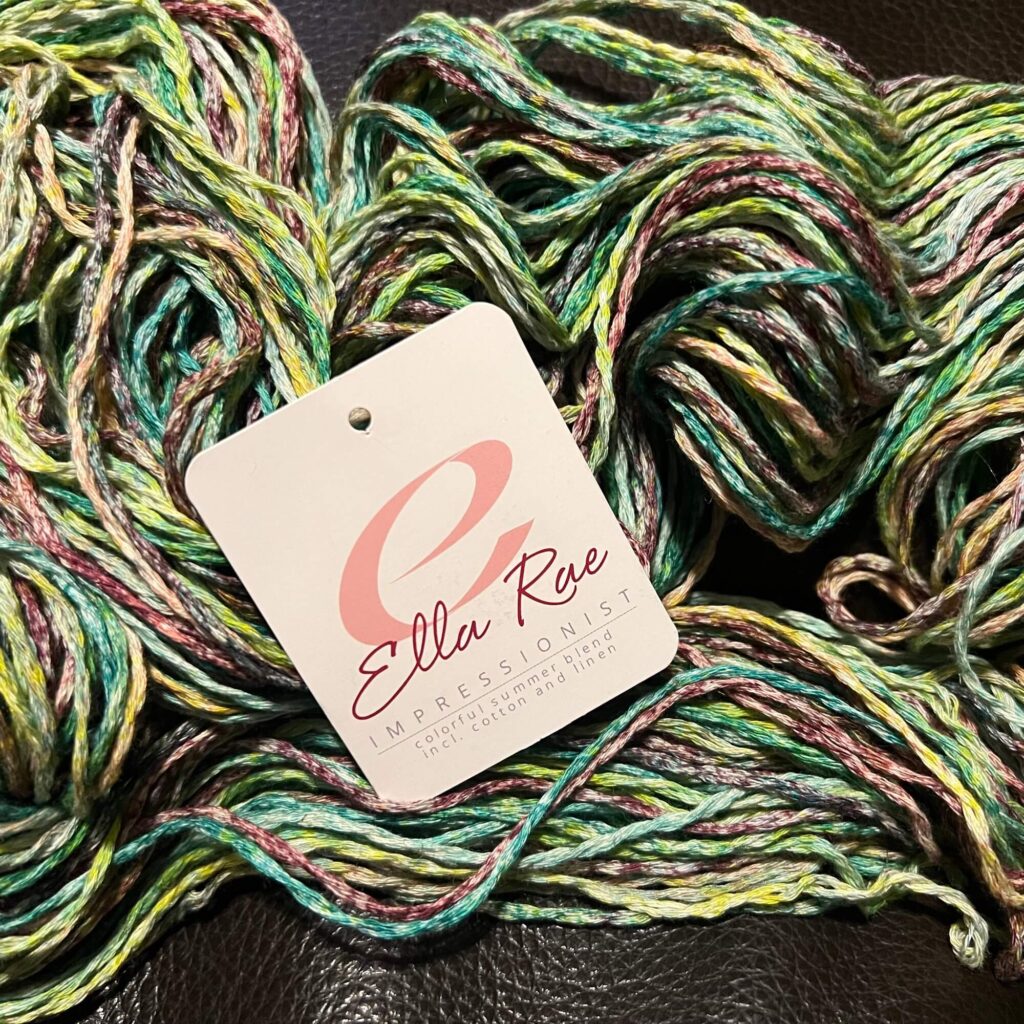 Side note, when I showed my mom this yarn, she was like "It looks like water lilies" she had no idea that is exactly what it was supposed to look like! What can I say? Ella Rae, you nailed it!
The yarn, a beautiful stitch pattern – what more could I need?
(Graphic and link to shop for Pretty on the Wrong Side)
I had the yarn, I had the main stitch pattern, but I didn't know what to do next? Did I want to knit this from the bottom up? Did I want it knit from the left to the right?
I started out using a lace cast-on, I love the lace cast-on! And I did plan to use fringe later. But as I knit the lace cast-on and went into the main stitch pattern, it just wasn't right.
I mean, it looked pretty, go check out my various Instagram posts showcasing my sample knitting. Because YES, I was sample knitting. I wrote the pattern out, and began sample knitting. Only to hate it. Frog it. And begin again. Write out a pattern, begin sample knitting, hate it, frog it, repeat.
It got to the point where I had frogged this yarn so much that I was worried I had wasted it. But no, it just needed a break. And with blocking you can't even tell which side had been knit over and over.
Eventually I chose to give this scarf a picot edge. But I didn't want a ton of picots, I wanted them spaced out. Then I fell in love with the picots. And I thought, you know what would be cool? What if there were picots all the way around this scarf? It would look like a garden lattice with flower vines shooting out with buds on the edges.
And I love it, like I really love it! To me it totally looks like a garden. A beautiful garden lattice with vines and flower buds. And you know what's cool though? This scarf is also pretty on the wrong side….
Small knit changes make the wrong side even prettier!
OK, so the original main stitch pattern is pretty on the wrong side, it is. It is. But, I altered things a little bit, and the craziest thing happened – it became even prettier on the wrong side! The small adjustment that I made on the right side, is barely noticeable, but on the wrong side? WOW! It was pretty before, now it's gorgeous! Too bad I already named it, and we can't go back.
Did you ask why? Well, because there's a song that I sing when I say the name of this pattern. I can't let this scarf lose it's jingle! It's just too late.
So anyway, I made the change, and now the wrong side looks like little waves crashing against each other. Not big waves – like this is not an ocean scarf, this is a pond with water lilies, and a frog just hopped to the next lily pad. And when he did, these gorgeous little ripples cascaded down the scarf. It's just too romantic for words! Or, if that's not your vibe, it also looks like the scales of a dragon, or mermaid.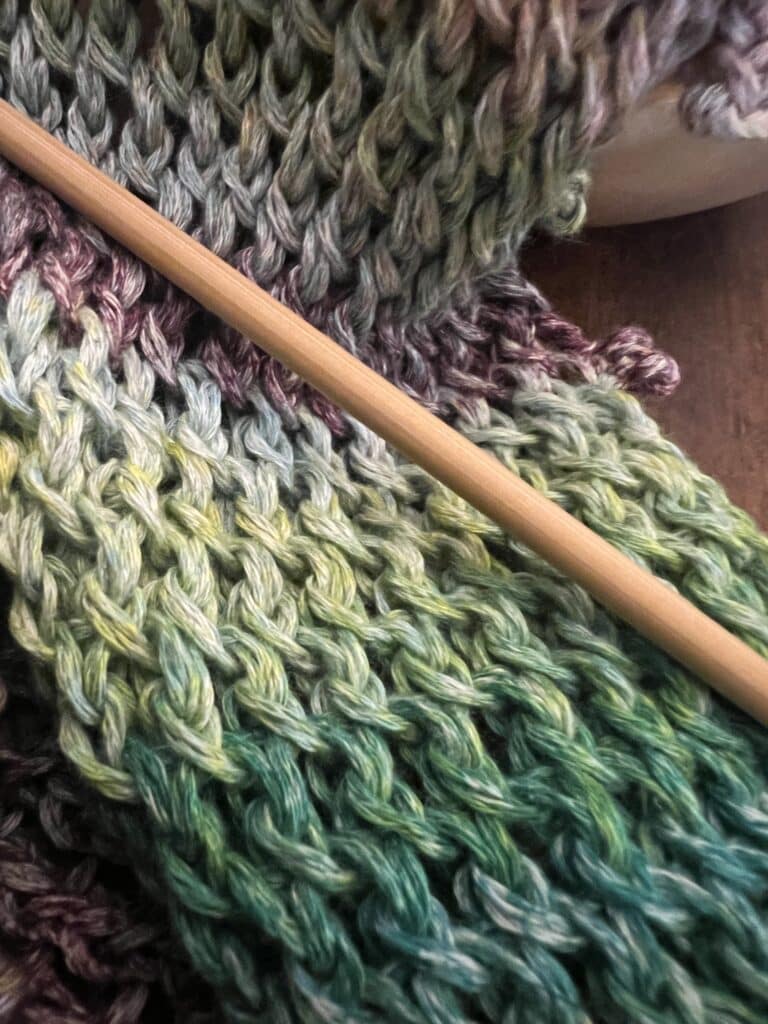 Multiple sizes or just DIY?
Now I had to choose what's next. Do I grade this scarf pattern, I mean it's a rectangle? And I honestly did think about making various sizes just so like, to do it? But then I thought, that's dumb. I said "Lois, you always make things complicated! Stop it, gurl, stop."
So instead, I decided to include customization instructions. This way, you can make the scarf thinner or wider, shorter or longer. Maybe you want more picots, or less. Gurl, that's awesome and you should do that! You be you, boo! This is YOUR scarf.
You want to make this wider and shorter and pin it with a shawl pin? I think that sounds amazing! Tag me in your IG photo @ozzylosiknits
You want it thinner and longer so you can wear it as a hanging belt and then as a wrapped around scarf in the evening? Oh please, please share that pic with me too.
More picots, no picots? Gurl, let me see what you come up with!
The point is, this pattern is versatile, whether or not I include different sizes. Instead what I did is give you the framework and a base pattern to follow to get an item as in my sample. But you get to decide the rest. Do I cast-on more stitches? Less? Do I knit 1 skein or 4?
Other Yarns and Colors?
Of course, the original swatch was done with Chloe yarn. Now I can't say I recommend that yarn, but if it doesn't scratch the heck out of your skin and you like it, go for it! But really you can use any Double Knit, light worsted weight (weight 3) yarn. In any fiber content you want. Just be careful of the drape factor. Like the yarn I used has amazing flowy drape. You do not want some stiff yarn that's not going to flap delicately in the breeze.
Lion Brand Truboo
OK, I obviously haven't knit the scarf with this yarn, but I totally would. I LOVE this yarn. It's shiny. It's inexpensive, and it has some amazing delicate colors. They are solids, but…. The shine factor take this from a casual beach day scarf, to a fancy tea luncheon party. Or like, a first-date, or your 19th anniversary…. (Maybe I'll knit one up for that reason…)
Knit Picks CotLin
It doesn't have the Viscose, it's true. But it's totally soft and has good drape. The only bummer is, solid colors.
Rowan Denim Revive
This is a fun yarn that has similar drape, but it would give this pattern a super casual feel, I like it. Pair it with a jean jacket and some cute capris – gurl, yes!
If you are interested in subbing with yarns that have similar fiber content, you can always use yarnsub.com which will compare all the aspects of the yarn.
What did the test knitters use and say?
Can i just say, this group of test knitters was AMAZING! I mean, I actually want to give credit where credit is due. In part because of this test knit, I came out of the experience with a much better knit pattern template. AND had the inspiration for creating the customization options as you see them now in the final pattern.
Brainstorming ideas, providing helpful feedback, test knitters are truly the unsung heroes of the knit pattern writing process. Thank you to my test knitters, you know who you are – you are AMAZING!!!
In no particular order, let's see their work and learn a little more about their yarn, and process.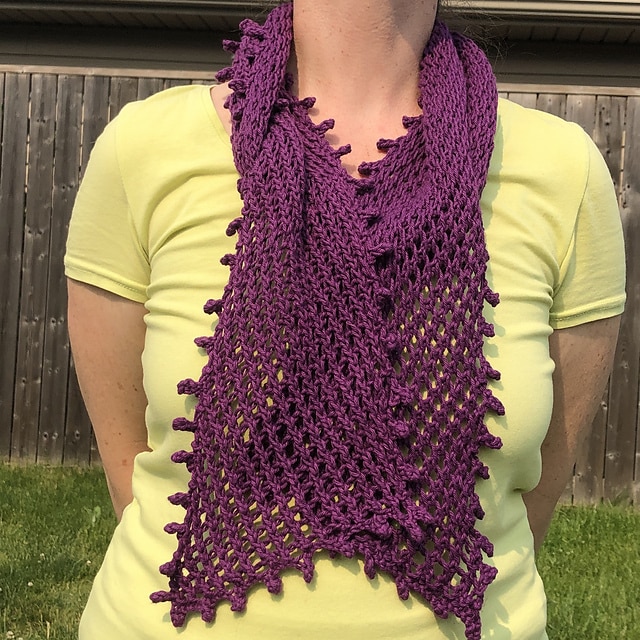 This test knitter, Erin, used Knit Picks Cotlin yarn. She did not make any customizations to the pattern and knit it as written.
The lace-style repeats and light weight yarn make this scarf a perfect all-season accent piece. The easy-to-reemember 4-row repeats make this a project you can confidently work on anywhere.

Erin
---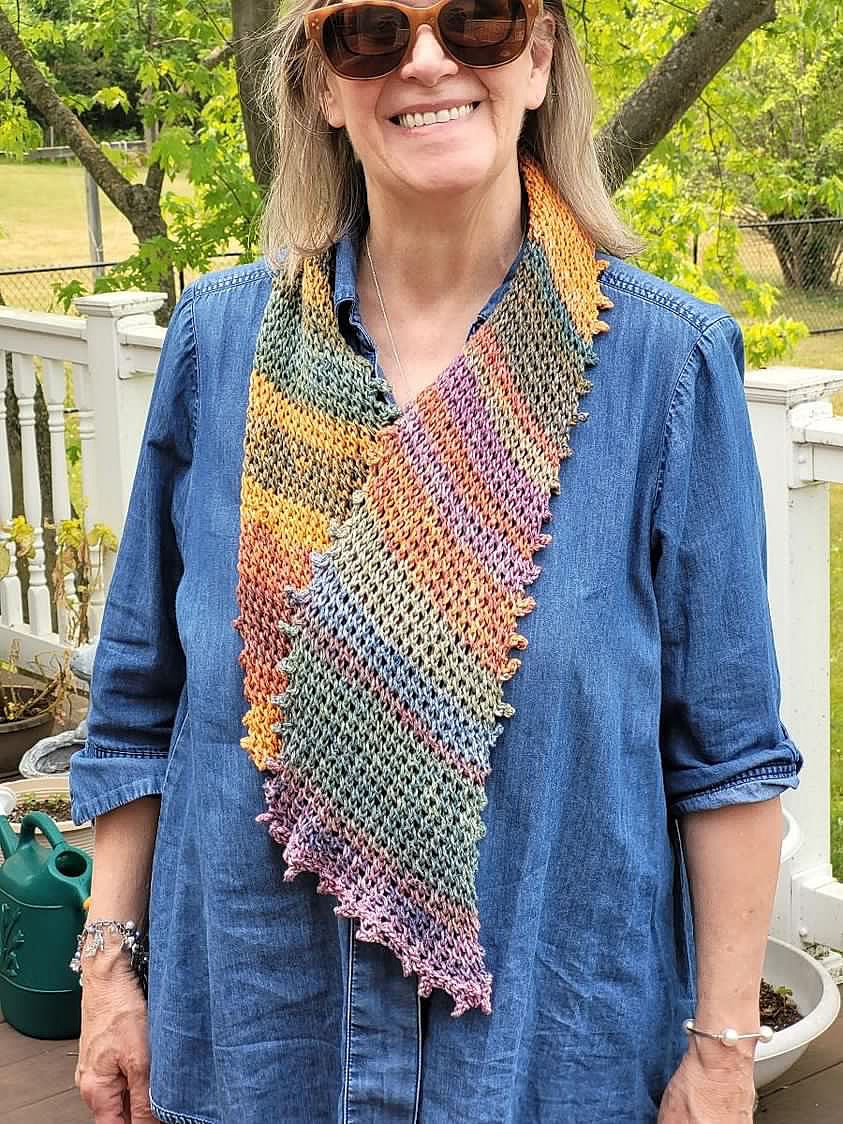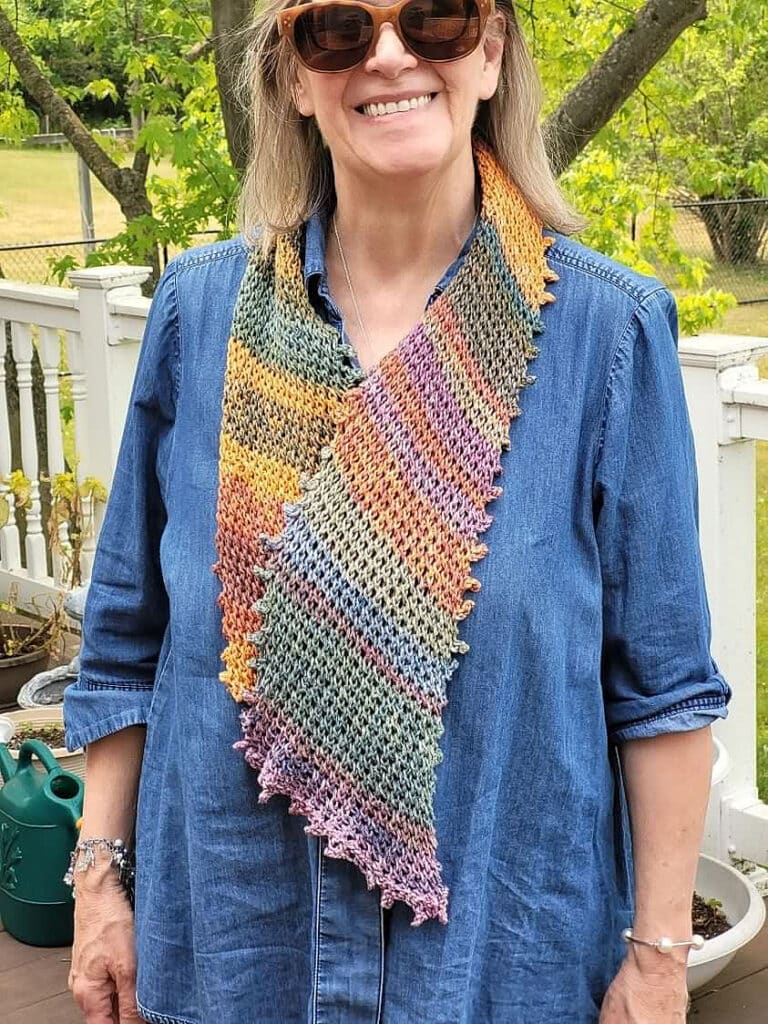 Jean did customize her Pretty on the Wrong Side Scarf a bit by adding an additional picot to the cast-on/bind-off edge making the scarf a little wider. She used the Ella Rae Impressionist yarn, and I totally love the way it looks!
I love this pattern and how well formatted the instructions are with customizable options. The tutorials are so helpful, and I learned a new technique for making a picots without me pulling my hair out! The design itself is very pretty and it's totally reversible! I can't say enough good things about this pattern! It is also perfect for beginners who would like to learn a few new skills with clear directions and a great visual format.

Jean
---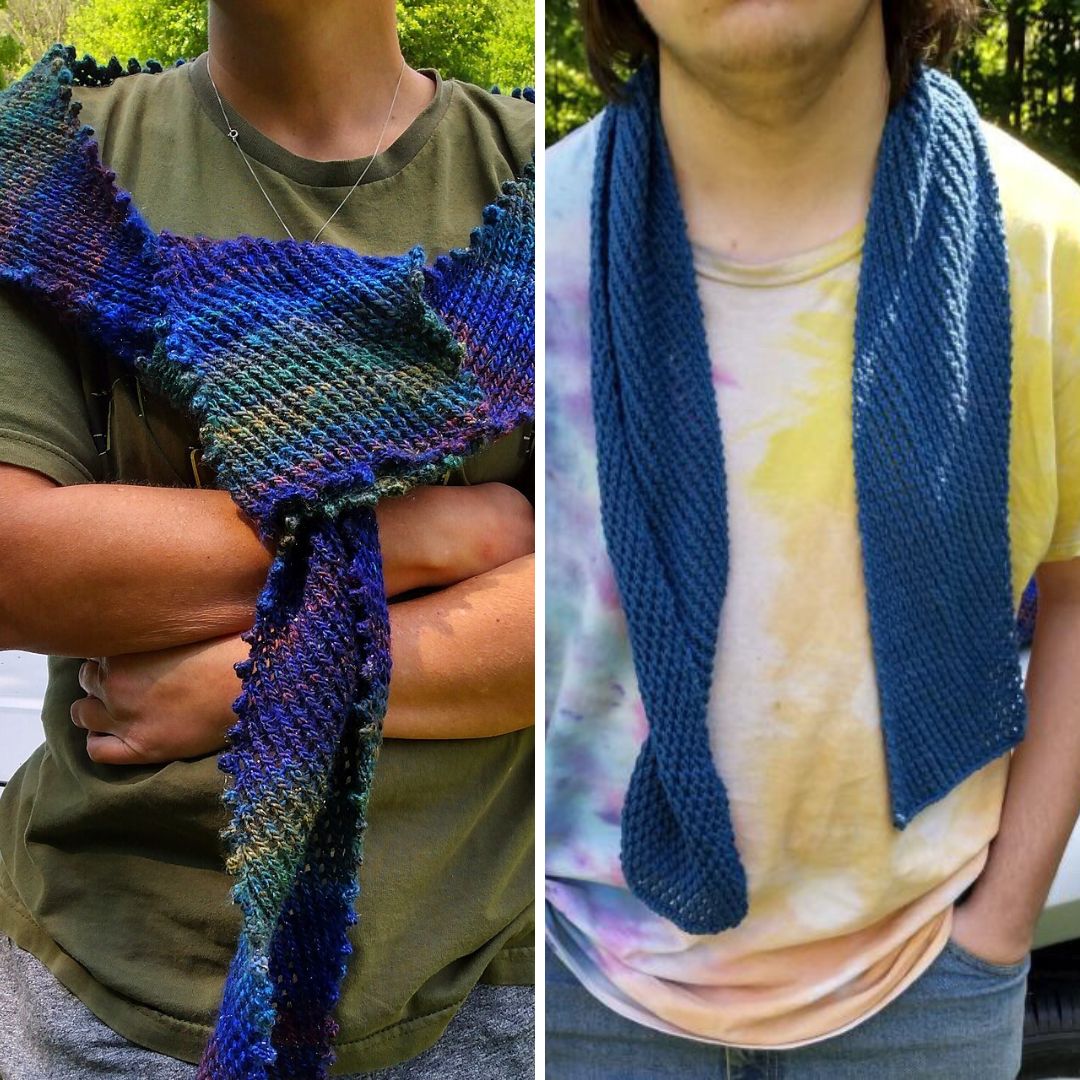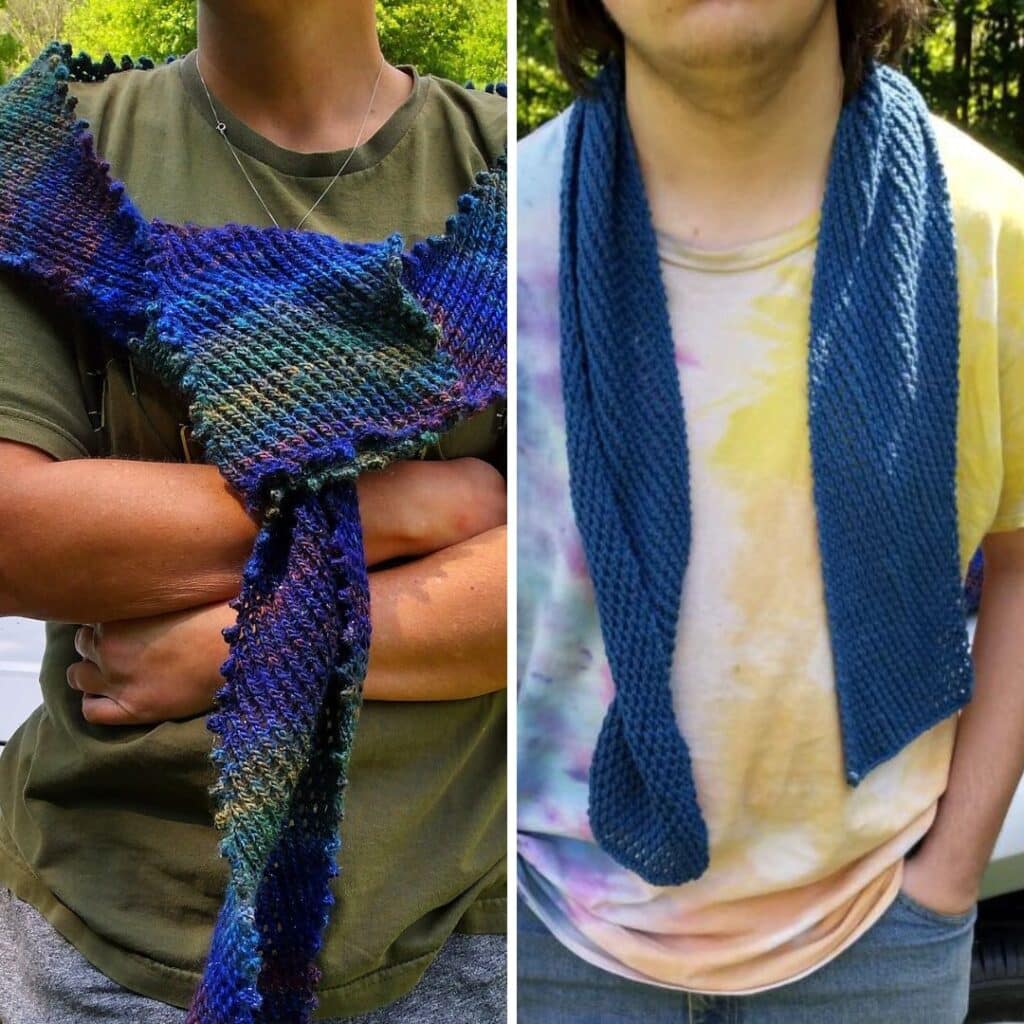 Melissa knit more than one Pretty on the Wrong Side Scarf, and I believe she's working on another! The first one includes the picots and she customized by adding an additional picot to the cast-on/bind-off edge as well as making the scarf a bit longer. In her second scarf, she opted to leave it picot free.
I enjoyed it so much, plus Son wanted a "manly scarf" that I made 2. One with picots and one without picots. 

Melissa
---
Thank you to the Tech Editor for Pretty on the Wrong Side Scarf
All of this would not be possible without the detail oriented and wonderful tech editor, Elisabetta Renwick. Thank you Elisabetta! You are too fabulous for words!
---
Ready to knit up your own Pretty on the Wrong Side Scarf?
Thanks for reading this blog post! As a special thank you, you can click the button below and save 10% on the Pretty on the Wrong Side Scarf in my Shopify store.