Grab Your Hat! It's Raining Bobbles!
I am so excited to announce the launch of the Bobble Bobble Beanie! September 1, 2021 this pattern will be available on my website, Etsy, Ravelry and Payhip. This pattern has been such a fun design for me to make! I enjoyed every minute of putting it together. I LOVE wearing this beanie!
How the Bobbles Came to Be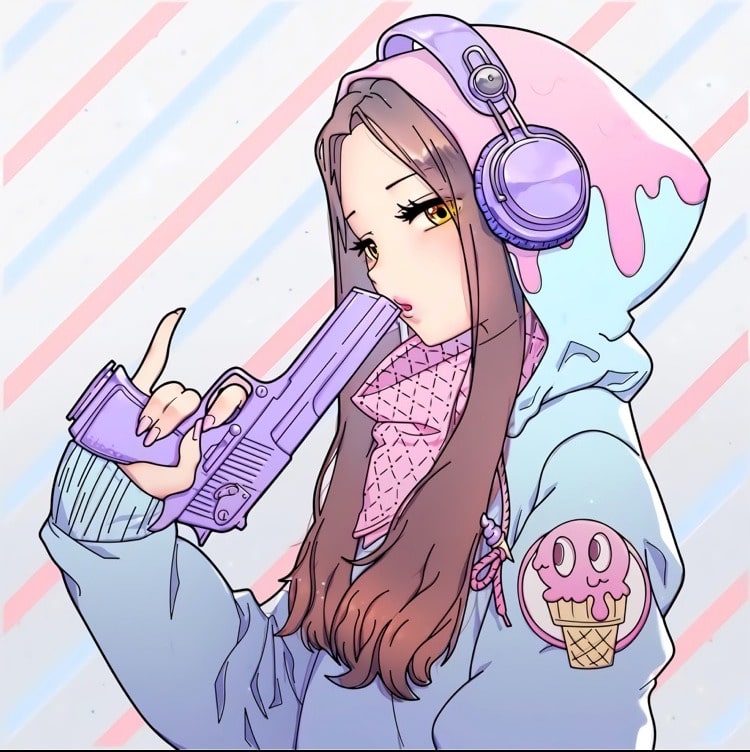 My daughter came to me a few months ago with this drawing. She wanted me to create a beanie that was similar to the hoodie the character is wearing. While I definitely took inspiration from this drawing, my finished object looks nothing like the inspiration! And I am OK with that!
First, I tried thinking about how I can make anything look like paint drips, and I came up short. Next, I thought about how bobbles could look like little bubbles of paint or color.
Second, my daughter is OBSESSSED with bubble wrap. Third, my sister gifted me this amazing Flamingo Bubble Shooter!
Once I added all of this up together the solution seemed clear! A bobble infested beanie! An explosion of bubbles! A wearable bubble wrap!
Side Note:
Yes, I'm over 40, and my sister gave me a light up bubble gun. My 4-year-old niece and I had a blast shooting bubbles into the night air dancing and cheering. I regret nothing.
Bobbles and Bubbles and Drips, Oh mY!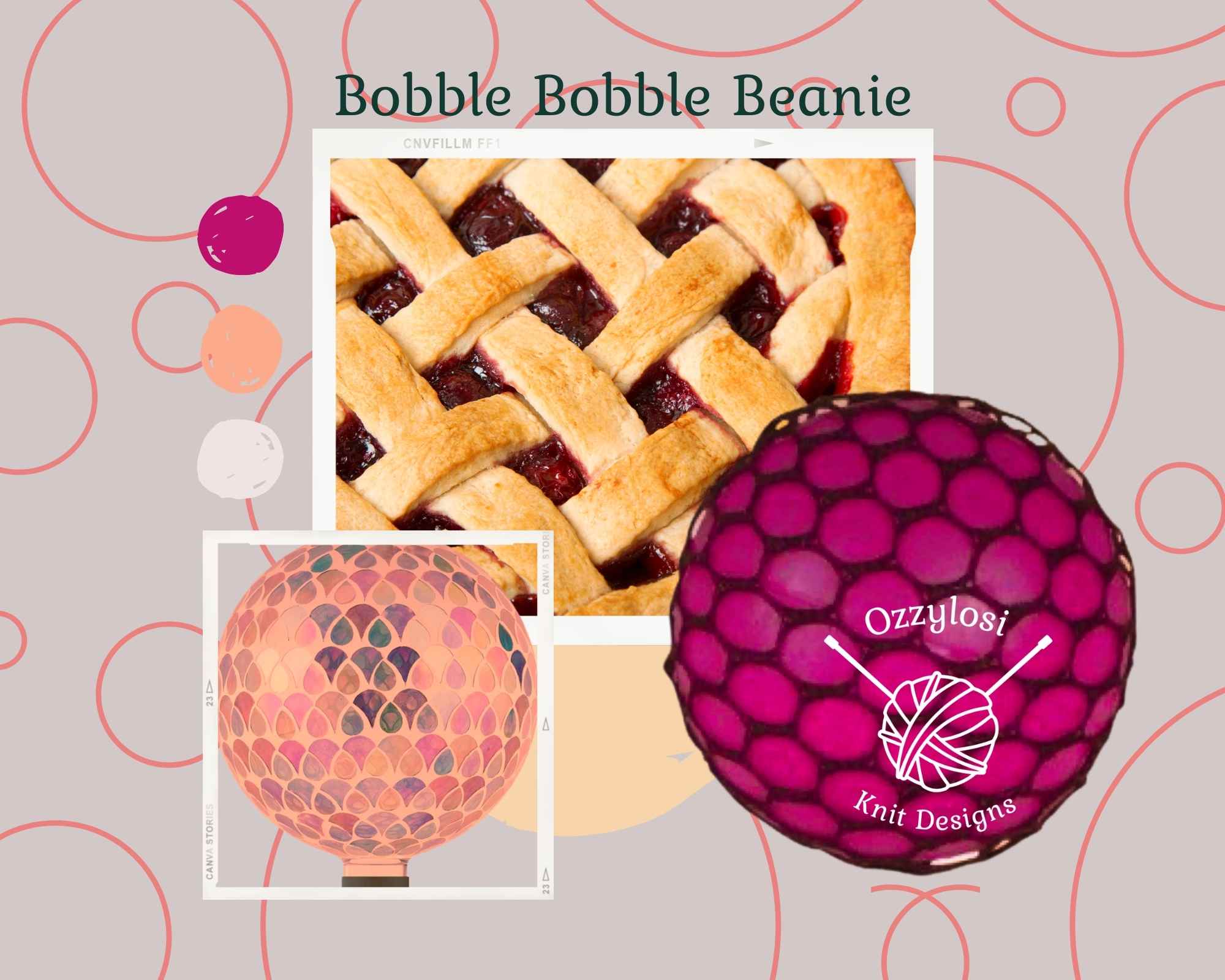 My daughter had selected the colors (see drawing) and when we went to get some yarn, the perfect color combo was in a bulky weight.
Dilemma! With all the bobbles it seemed as if this hat with bulky weight yarn would be too heavy and too warm for the weather here in the desert of New Mexico.
However, once I threw in some crossing elongated stitches I found the perfect balance of bobbles, crossed stitches, bulky weight yarn and AIR!
Bobble Bobble Beanie Structure
The design starts out with the two-color braided cast on, and then a simple slipped stitch ribbing. Before we bobble, we do some increases so that the bobbles have plenty of room to spread out!
I made the band with negative ease so that it will sit securely on your head, and then let the bobbles poof out everywhere! When the hat lays flat it looks just like pie! YUM!!!
Here I am including a knit by a test knitter because they chose to use a variegated yarn for the bobbles and a speckled neutral for the crosses, and the effect is GORGEOUS! Check this out!
For my hats, (yes, I made two of them – the first one decreases needed work) I used two solids.
Bobble Bobble Beanie Pattern Expectations
With all my patterns I try to work through each part of the pattern so that if there is anything even slightly tricky, I can provide video tutorials and instructions or notes for success in my pattern! I want to be sure that you end up with the finished object you see when you buy my pattern!
Of course, you should do a gauge swatch first! ? But then, once you're knitting if you run into any trouble, just send me an email, or review the videos, instructions and notes!
Happy Knitting!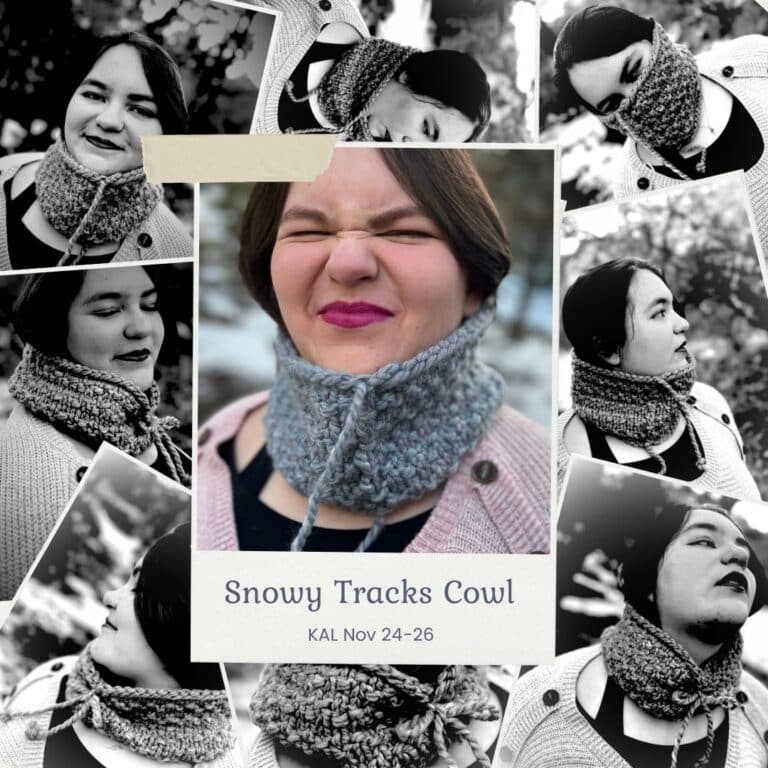 Snowy Tracks Cowl is a bulky weight knit cowl that is guaranteed to keep you warm this winter. Knit in the round from the bottom…